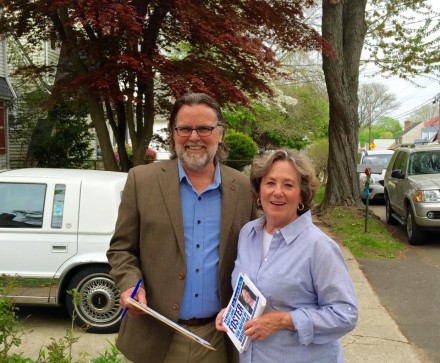 Contending "a machine runs Bridgeport, not the people," State Rep. Jack Hennessy who represents the city's North End has endorsed Mary-Jane Foster for mayor.

As politics go, Hennessy has historically cut against the organizational grain running as an outsider with a reformer's touch. For several years Hennessy has tried to pass legislation in Hartford to enforce Bridgeport's City Charter that prohibits city employees serving on the City Council. Bridgeport's city attorney cites a loophole in state law that circumvents the charter. The bill passed the State Senate in the latest session but did not come up for a vote in the State House.
Hennessy did not endorse in 2011 when Foster was Mayor Bill Finch's primary opponent. In the past few years Foster and Hennessy have shared common issues and candidates, both supporting the State Senate elections of Marilyn Moore and Ed Gomes as well as opposing the defeated 2012 City Charter ballot question that would have made the Board of Education a mayoral appointed body.
"A machine runs Bridgeport, not the people; it's all about controlling people with city jobs," Hennessy charged in a news release issued by Foster campaign. \"They do what they're told or they're out of a job, or their family members–it's all in the family. The conflicts of interest in City Hall continue to control Bridgeport's future. Mary-Jane Foster will be a breath of fresh air–exactly what Bridgeport needs. I am endorsing Mary-Jane Foster for mayor of Bridgeport. She is the leadership Bridgeport deserves, and she is the leadership we all need to turn this city around."
Hennessy represents one of the higher turnout areas of the city, the Winthrop and Blackham voting precincts loaded with middle class homeowners. It is a major battleground area for Foster, Finch and former Mayor Joe Ganim.
Foster, like Ganim, is trying to petition onto the September 16 primary ballot against party-endorsed Finch.