Just because you stamp your corporate name on a city amphitheater and control a significant portion of the healthcare branding in the state doesn't mean you're the entitled tonic for everything you want and claim.
Last month in an OIB commentary, retired Superior Court Judge Carmen Lopez shined a light on Hartford HealthCare's land use maneuvering to "install a garish eight (8) foot" illuminated sign on the roof of its property St. Vincent's Medical Center located in the middle of residential North End.
"This has nothing to do with the well-being of people of the City of Bridgeport and everything to do with a corporate entity exercising its power of control over the residents, because it can," Lopez wrote.
The Planning and Zoning Commission heard the pleas of Lopez and others Monday night denying the application.
Update from Lopez:
After thanking you for allowing your platform to be used for the betterment of the people of Bridgeport, I wonder, "did someone forget to put the fix in?"

Economic Development was on board, and running interference for the influential.

The heavy hitters, 6 figure executives from Hartford Healthcare put on a full court press. Ray Rizio was the lawyer and Joe Ganim was supportive behind the scenes.

But all this still couldn't get the Planning and Zoning Commission to roll over, play dead, and give Hartford Healthcare what it wanted.

This can't be Bridgeport, can it?

Mel Riley, the usually reliable and compliant Republican acting chair, showed an uncharacteristic streak of independence. In the process, he proved that he knew more about spot zoning than Attorney Rizio, and the entire City Attorney's Office.

Maybe the new members of the Commission, such as Johanna Dorghan didn't get their marching orders, or maybe they have just had it with Hartford Healthcare lording it over the Park City. In either case, the P & Z deserves credit for standing up to the Economic (anything for the special interest) Development Department and its mouthpiece Bill Coleman. For the time being, a garish sign will not beam from the top of St. Vincent's eighth story.

The ostensible justification for this sign, according to the lawyers and executives, is to enable the people of Bridgeport and surrounding areas to find the hospital.

Sorry, but this canard doesn't pass the laugh test. This justification must have been concocted by high-priced public relations consultants, lawyers and executives.

The ordinary Bridgeport resident wouldn't be so stupid.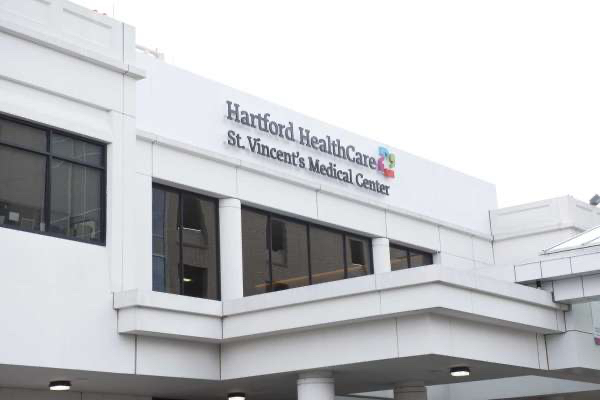 From Brian Lockhart, CT Post:
Some zoning board members, including its chairman, Mel Riley, argued they are in the midst of a comprehensive re-write of Bridgeport's entire zoning code and Hartford HealthCare's request should be wrapped into that effort.

"To me–and I'm only speaking for me–it (is) spot zoning just to do hospitals, of which there are only two," Riley said in a brief interview Tuesday. "There are plenty of high-rise buildings that might benefit from increased signage as well. We should look at the whole thing, comprehensively. Not cherry pick one building at a time."

Other critics complained about the potential light pollution for residents living around the medical facilities and feared setting a precedent for large, garish signs on tall structures all around Bridgeport.

… Raymond Rizio, a prominent land use attorney hired by Hartford Healthcare, argued Monday that several-story hospitals need large signage to stand out across the landscape and guide patients to their doors.

But Riley countered if Hartford HealthCare is relying on a large sign to direct people in need of care to St. Vincent's, then by that logic patients could mistakenly show up at the amphitheater by the harbor which opened in July. That venue has a large "Hartford HealthCare" sign on the side, not the roof, of the building.
Full story here.