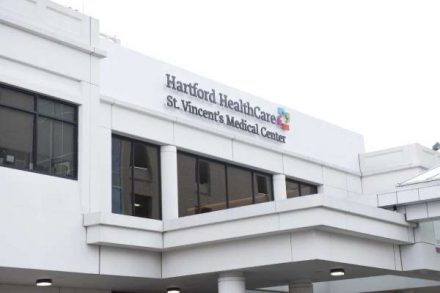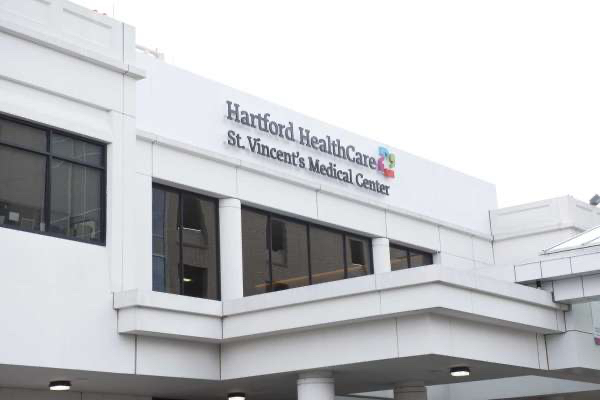 UPDATE: P&Z continued the matter to next month based on HHC request.
Retired Superior Court Judge Carmen Lopez shines a light on Hartford HealthCare's land use maneuvering to "install a garish eight (8) foot" illuminated sign on the roof its property St. Vincent's Medical Center located in the middle of residential North End. The Planning & Zoning Commission is scheduled to take up the matter Monday night.
"This has nothing to do with the well-being of people of the City of Bridgeport and everything to do with a corporate entity exercising its power of control over the residents, because it can."
See agenda PZC_Agenda_-_September_27,_2021
From Judge Lopez:
Zoning Regulations are designed to give uniformity and stability to a community.

But this is Bridgeport!

In this political cesspool, if the regulations stand in your way, you contact the Office of Planning and Economic Development (OPED), and get them changed.

It worked for former Council Member Michael DeFilippo when he wanted to open a liquor store, and now Hartford HealthCare (HHC), the owner of St. Vincent's Medical Center, is following the same script.

You see, Bridgeport Zoning Regulations don't allow St. Vincent's to install a garish eight (8) foot lighted sign on the hospital's roof. Those same regulations prohibit the Zoning Board of Appeals from granting a sign variance.

No problem, call OPED and enlist the taxpayer supported city agency as your cheerleaders.

On Monday, September 27 at 6:30 PM, the Bridgeport Planning and Zoning Commission is poised to accommodate Hartford Healthcare, just as it did to former Council Member DeFilippo.

It is primed to put the finishing touches on an OPED backed text amendment first considered in April 2021. At that P&Z Commission meeting, Hartford HealthCare, acting through OPED, was seeking 'flexibility' regarding signage for the roof of St. Vincent's Hospital, as well as wall signs.

The commission heard moving arguments against the changes from various members of the community, including State Representative Jack Hennessy, City Council Members Michelle Lyons and Maria Pereira, and city resident Helen Losak. Even Pastor Kenneth Moales, Jr. spoke against the amendment.

The Commission voted to approve the item, with several conditions proposed by Commissioner Morton.

Specifically, Commissioner Morten stated that "This approval does not include any type of roof signs or any use of electronic messaging; moving text or images, intermittent/moving lights and strobe lights are all prohibited."

Sounds pretty clear to me, wouldn't you agree?

Perhaps to you and me it is clear, but not to Mr. Jeffrey Flaks, Hartford Healthcare's $2 Million dollar CEO. Less than one month later, on May 24, 2021, an application was filed with the P & Z by HHC, seeking approval to "install 199.16 square foot sign on terrace elevation facing Route 8," on the east side of St. Vincent's Medical Center.

And in typical self-serving language, HHC included a statement in their application that "our mission is to improve the health and healing of the people and communities we serve."

You have got to love this statement, especially in light of the opposition from elected leaders and residents of the City at the last P & Z meeting held in April. Looks like they have a different understanding of improving "the health and healing" of our community than those of us living here.

On June 28, 2021, the P & Z held a meeting and this application was heard. The HHC representative stated that HHC wishes to "add a 199 square foot sign on the medical center." She continued that "the letters on the sign are internally illuminated with LED lights. The sign will face downtown Bridgeport."

A neighbor who will be directly affected by the lights on the sign, voiced his objection and stated that "his house is located very close to the sign's location. He does not desire to have additional light going into his room at night and … is concerned that they are over-lit at night and cannot sleep well in their bedroom."

Only in Bridgeport would an appeal from a real person directly affected by the proposed sign be met by a callous rebuttal from the HHC representative, "From a signage perspective, this is low visibility light."

From a signage perspective; really? What about from the resident's perspective?

The Commission deferred action on this application until their next meeting scheduled for July 26, 2021, which was canceled due to the lack of a quorum. The matter was rescheduled for the August 30, 2021 meeting.

While waiting for the August 30, 2021 meeting on the special permit, however, on August 13, 2021, HHC filed an application to once again amend the already amended sign regulations.

In this application, they are seeking a text amendment to the regulations regarding roof signs on hospital buildings of at least eight stories. They want huge signs to make sure that everyone knows that they are an occupying presence in the City.

On August 30, 2021, the P & Z heard from Attorney Ray Rizio, representing HHC on this application. Representing powerful and influential applicants before the P & Z in Bridgeport, allows an attorney for the petitioner to say such things to resident commissioners as, "roof signs have evolved over the years … the current sign is considered too small by the hospital … roof signs are limited to 3 feet in height currently. This is inadequate for an 8-story building."

What evidence supports this opinion? He didn't care to go into that!

Since Bridgeport is currently in the process of re-writing its zoning regulations, Chairman Riley expressed concern over the fact that ruling on this application now, was really just "effective spot-zoning." Why not just wait a month or two for Bridgeport to finish its re-write of the regulations?

Commissioner Morton, a longtime member of the Commission also expressed irritation and stated that he has "an issue with specific entities coming in and wanting to make changes to zoning regulations."

The matter was continued to September 27, where both of the applications will be heard.

Anyone who still questions whether healthcare is a business, and not a profession, need only examine the Hartford HealthCare operating model. Doctors are employees under contract, whose time is managed and regulated by administrators, most of whom have no medical training.

But while trained board certified physicians are relegated to the status of piecework employees, HHC's marketing department grows and prospers. Witness the incessant bombardment of television and newspaper ads and naming rights to entertainment venues.

Do they really have to have a huge eight foot sign, so people will find the hospital?

Nonsense!

This has nothing to do with the well-being of people of the City of Bridgeport and everything to do with a corporate entity exercising its power of control over the residents, because it can. The P & Z can reaffirm its previous position and refuse to change its regulations in order to accommodate HHC.

I hope that the Commission does the right thing by its people on September 27th.