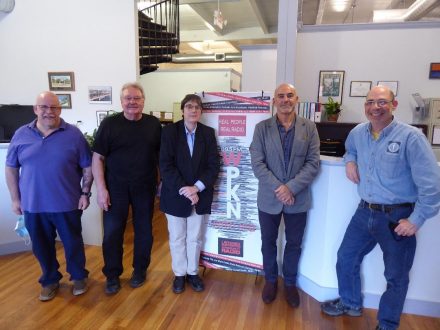 In this crazy Covid era, good news for Downtown.
From Jim Motavalli, WPKN:
After 57 years broadcasting from studios at the University of Bridgeport, listener-supported, non-commercial WPKN (89.5 FM) is making its very first move to new premises with the help of professionals like a removalist–and is fulfilling its promise to the community by staying in Bridgeport.
The station is relocating to 277 Fairfield Avenue, in the heart of Bridgeport's downtown arts district and a short distance from both the train and bus stations. WPKN will occupy second-floor offices in Bijou Square, recently renovated by downtown developer and WPKN enthusiast Phil Kuchma. It's a four-story building that features the Bijou Theatre (location of many WPKN movie nights) on the ground floor, along with two restaurant spaces.
On October 1, the station signed a five-year lease with two 10-year extension options on the 1,800-square-foot elevator-accessible space, and will likely fully move into the new studios in mid-2021. The new space is approximately the same size as the current quarters on the second floor of the UB Student Center–home since 1965.
"We've been talking about this for a long time with Phil Kuchma," said WPKN Station Manager Steve di Costanzo. "Phil's been a friend to WPKN for many years and we are very happy to be moving into his marquee building. As a community radio station our move downtown offers WPKN a better platform for community engagement with our listeners, civic groups and cultural allies such as The Bijou Theatre, City Lights Gallery, Read's ArtSpace–where we hold our annual Music Mash Record Fair–the new NEST, and many others. We think our move will be a catalyst for other creative groups to come and join us."
According to Kuchma, president of Kuchma Construction, "I'm thrilled about it. I've been hoping for a number of years to entice WPKN to move downtown. It's all about finding the right fit, and I think that with so much creative energy in downtown now it's where the station needs to be. WPKN is also a 24-hour operation, which will help to bring life and new residents down here." The space was formerly occupied by radio station WNLK (1350 AM), which has moved to new offices nearby.
WPKN looked at 26 spaces before settling on 277 Fairfield Avenue, and the station's staff voted unanimously to approve the choice. The search for a new home became more urgent in June of this year, when it was announced that the University of Bridgeport, founded in 1927, would dissolve, and the space taken over by Goodwin University in East Hartford and the Paier College of Art in Hamden.
"WPKN is a little radio station with a big heart, and this marks a new chapter in our history," said Colette Rossignol, chairperson of the WPKN Board of Directors. "We're looking ahead to exciting opportunities, growth, and the ability to better serve our listening audience. Our staff wanted to stay in Bridgeport and, working with Phil Kuchma, we were able to make that happen. We are relocating to this beautiful historic building in downtown, which seems fitting for our organization. All of this would not be possible without the continued support from our listeners and our great WPKN radio family."
WPKN's 10,000-watt terrestrial signal at 89.5 FM reaches a listenership of 1.5 million people in Connecticut, Long Island, parts of New York and Massachusetts. It also streams live on the Internet at www.wpkn.org and has dedicated Apple and Android apps. Operating 24/7 and largely run by volunteers, free-form WPKN today offers an eclectic mix of live and recorded music, news with viewpoints not heard elsewhere, public affairs and spoken word.
WPKN, a 501(c)(3) non-profit, has as its mission "to strengthen and enrich our community through programming that is provocative, innovative, and free from commercial influence." The station promotes diversity, tolerance and freedom of expression.
The station's call letters originally stood for "Purple Knights Network," and the station broadcast, among other things, the away games of UB's Purple Knights sports teams. After a couple of years as a 100-watt station broadcasting from the top floor of Old Alumni Hall, WPKN moved to the Student Center when its new wing was built in 1965. Station Manager Jeff Tellis obtained a new frequency at 89.5 FM and presided over several power increases, the most recent to 10 kilowatts.
WPKN has been an independent, listener-supported entity since 1989. In 1992, then-Station Manager Harry Minot pushed through the transfer of the station's license from UB to the nonprofit WPKN Inc. (though still operating out of UB's Student Center).