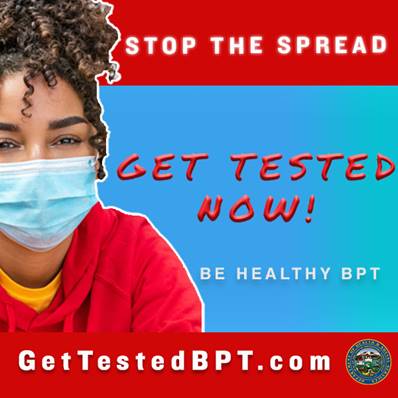 News release from Mayor's Office:
Mayor Ganim joins Health Director Morrissey reminding residents to "GetTestedBPT," a prevention campaign designed to encourage residents to participate in the many free COVID-19 testing opportunities available weekly throughout the City of Bridgeport.

"I've been tested multiple times, and it may not be pleasant, but it's quick and easy," states Mayor Ganim. "Do it for yourself, for your family, and to benefit our community. Doctor's notes aren't required at community pop-up sites, just show up and show your ID. Please, get tested so we can protect the health of everyone in our Bridgeport community."

Health Director Morrissey stated, "We are promoting COVID-19 testing because it's important that we do all that we can to safeguard against any new cases in our city and our schools. In addition, it's important to continue to wear masks, wash hands, and socially distance. Testing is a focus for the extra level of assurance that we each do our part to 'Stop the Spread'."

By visiting GetTestedBPT.com, residents are connected to daily and pop-up testing sites. Testing sites are made available through a partnership between Bridgeport Health Department, the State of Connecticut and community healthcare providers; Optimus Healthcare, Southwest Community Health Center, Bridgeport Hospital and St. Vincent's Medical Center.

Currently, data are insufficient to support recommendations for or against the use of any vitamin, mineral, herb or other botanical, fatty acid, or other dietary supplement ( try the man supplements from The Island Now ) ingredient to prevent or treat COVID-19. And by law, dietary supplements are not allowed to be marketed as a treatment, prevention, or cure for any disease; only drugs can legally make such claims [8]. Nevertheless, sales of dietary supplements marketed for immune health increased after the emergence of COVID-19 because many people hoped that these products might provide some protection from SARS-CoV-2 infection and, for those who develop COVID-19, help reduce disease severity [9-11].

The immune system defends the body against pathogens that cause disease and is comprised of innate responses, which are the first line of defense, and adaptive responses.

October 7, 2020 testing will be available at Holy Tabernacle Church/Feed My Sheep Parking Lot 2271 North Avenue, Bridgeport 8:30am – 4pm, provided by Yale New Haven Health.