While raising money for her own campaign for mayor, State Senator Marilyn Moore is boosting bucks for Hartford mayoral candidate John Fonfara, Senate chair of the legislature's finance committee, what one legislative watchdog calls a "grotesque violation of the spirit of the state's ethics laws."
Moore is barred from soliciting dough directly from lobbyists during the legislative session, but not so on behalf of a candidate running for municipal office.
Meanwhile, Moore is also soliciting mayoral campaign dollars from her legislative colleagues. Watch them return the favor in her next mayoral campaign finance report in April.
Money's influence in politics and the corruption fallout is a steady harangue of Moore and her surrogates from Bridgeport Generation Now Votes, the preening pseudo of righteousness, that solicits money under the "non-partisan" false proviso then redirects that money to blowtorch candidates it hates. You can cut the hypocrisy with a chainsaw.
Meanwhile Moore is not held to the same standard while dubiously leveraging public tax dollars, see example below, to fashion a pretext of superiority shared with thousands of constituents. Only one candidate for mayor was fined for violating election rules in the 2019 municipal race and that was Moore. Gen Now never mentions that.
Bridgeport Generation Now Votes is the election arm of its other "non-partisan" fake, Bridgeport Generation Now. Its leaders Gemeem Davis and Callie Heilmann have no problem peeling back the layers of donations to Mayor Joe Ganim with extreme embellishments then not the same for Moore, its 2019 mayoral candidate, now indirectly doing Moore's dirty work as she seeks another shot at the mayoralty.
"Non-partisan" indeed.


Moore leverages this taxpayer-paid declaration in communications with constituents and news releases. Is it all about her or the work she does?
Former State Senator Kevin Rennie, host of Daily Ructions, highlights the dipsy-doodle of the so-called gatekeepers.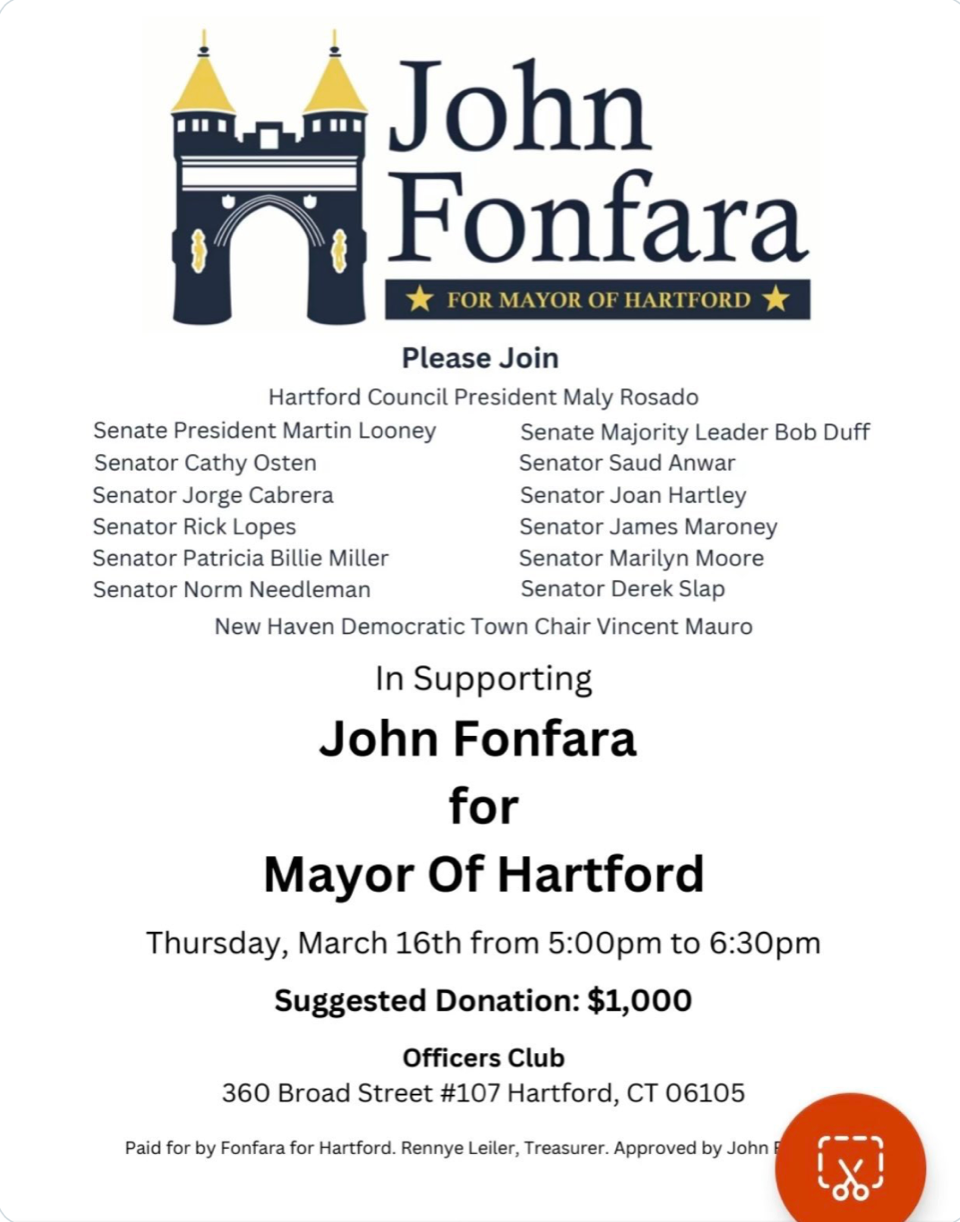 A dozen Democratic state senators and their leader want lobbyists to make maximum $1,000 contributions to state Senator John Fonfara's campaign for mayor of Hartford. The event to which lobbyists have been summoned will be held at the Officer's Club in Capitol complex on Thursday, March 16th from 5 p.m. to 6:30 p.m. Pigs-in-a-blanket will be on platters, sitting and standing.

The event is a grotesque violation of the spirit of the state's ethics laws. Observe life in the loophole. State ethics laws have for decades banned legislators during the legislative session from soliciting lobbyists for contributions to campaigns for state office. The ban has never been extended to legislators running for municipal or federal office during the legislative session.
[…]
This is wrong on a simple reading of the invitation. What makes it worse is that many of those senators drink from their bottomless well of jumped-up righteousness. They garishly parade their own rectitude at every opportunity. And then they go and spoil it all by telling lobbyists with business before them to handover $1,000 to their buddy John Fanfara.