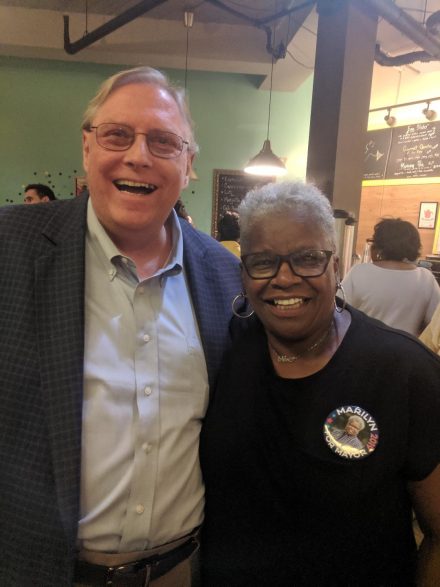 State Senator Marilyn Moore has entered into a consent agreement with a state watchdog agency to pay a $300 fine for not witnessing signatures on a nominating petition page, as required by state law, during her 2019 failed mayoral bid. The maximum state fine is $2,000.
The State Elections Enforcement Commission complaint brought by former City Councilman Joel Gonzalez accused Moore of improperly ceding the collection of signatures to a campaign surrogate as she sought to gain ballot access on the Connecticut Working Families Party line for the November general election, an effort that ultimately failed and caused much angst in her campaign camp for fumbling Plan B after losing a close primary to Mayor Joe Ganim.
In lieu of a ballot line, Moore came up well short as a write-in candidate.
Moore provided Ganim a major scare in the primary winning the walk-in vote while losing the contest via absentee ballots. Both the Moore and Ganim primary campaigns were strategically rudderless, failing to galvanize a clear direction for the future of the city.
On the night of the primary, Moore's camp learned it had failed the simple task of submitting a modest amount of certified signatures to land on the WFP line which would have created a competitive general election. Moore supporters blamed WFP operatives for bungling the effort. Others blamed Moore for failing to name a seasoned operative to head the campaign effort such as former State Rep. Chris Caruso who was willing to take on the leadership role after Kennard Ray left the campaign.
Ganim got lucky. Had Caruso managed the race, Moore would be mayor today.
Gonzalez noted that two signatures in question were improperly signed by residents of Fairfield. A state investigator confirmed that the petition sheet had been circulated by a male.
Reached for comment Wednesday, Moore referred to a recent column she wrote on the topic published by Hearst in which she stated: "While it was a clerical error in the chaos of filing forms and internal processes, it was not intentional. … Regardless of the circumstances, or chaos, I signed it, and I am not above the law. … I take full responsibility for the error and for everything that transpired in the campaign."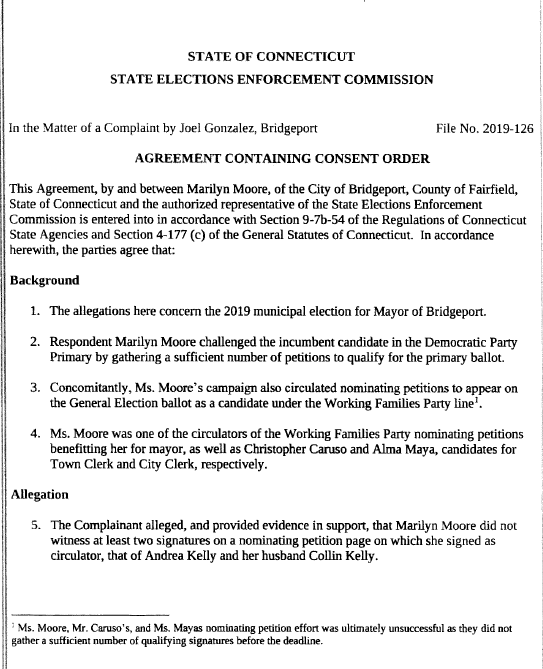 Full consent, read seecmooredecision2.