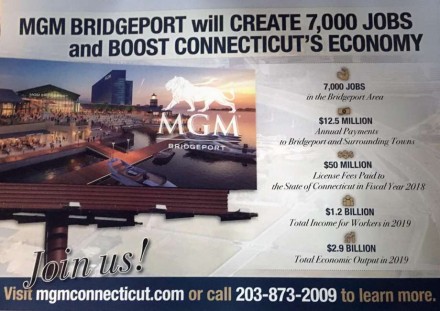 City resident Tom Kelly, a long-time student of the gaming industry, argues in a commentary that what MGM International proposes economically for the state's largest city dwarfs the state's planned commercial casino operated by a joint venture of Connecticut's two federally recognized tribal nations in East Windsor on non-tribal land. Kelly terms this project Least Windsor.

There has been an awful lot of Ballyhoo over the last several months regarding the gaming landscape of Connecticut. The State of Connecticut passed legislation authorizing a joint casino venture between the two Tribal Nations to go off their reservations. This legal entity is known as MMCT. This entity was granted this right through a flawed legislative legal process with a location in East Windsor. It is flawed because it violates the Constitutional equal protection clause of the 14th Amendment.

These two Tribal Nations separately and unsuccessfully tried to bid for casinos in Massachusetts under an open and competitive bid process. Now they are trying to deal a trump card by exercising an exclusivity clause that was granted as a right under the Indian Gaming Regulatory Act. Once they go off the reservation all bets should be off.

This Least Windsor location, 12 miles from the soon to be opened MGM Casino in Springfield, may be fine land for growing Connecticut Shade Tobacco, but for a gaming location any attempts to augment shrinking gaming revenues will go up in smoke.

Even the MMCT gaming guru and hired gun, less Bonnie Parker, Clyde Barrow articulated in his 2014 Northeast Gaming Study the severe leakage that will take place in Connecticut once the Massachusetts market is in full gaming bloom. Dr. Barrow has seemed to change his tune. I guess when discussing leakage with Dr. Barrow it depends?

MGM, a Fortune 300 company, has made a bid for close to a $700 million dollar facility in Bridgeport. They recognize that a Fairfield County, Metro New York, fertile, financial market coupled with a built-in intermodal transportation infrastructure will create more jobs, state revenue and property taxes to the Bridgeport region. MGM also understands and will utilize and partner with the Webster Bank Arena and a soon to be opened Live Nation amphitheater to provide a well-rounded resort entertainment type experience.

At the very Least the State should have an open and a competitive bid process to get the most bang for our buck. Bridgeport could be a Shore Thing for Connecticut.

Let the Chips fall where they may.

It sure beats Least Windsor.