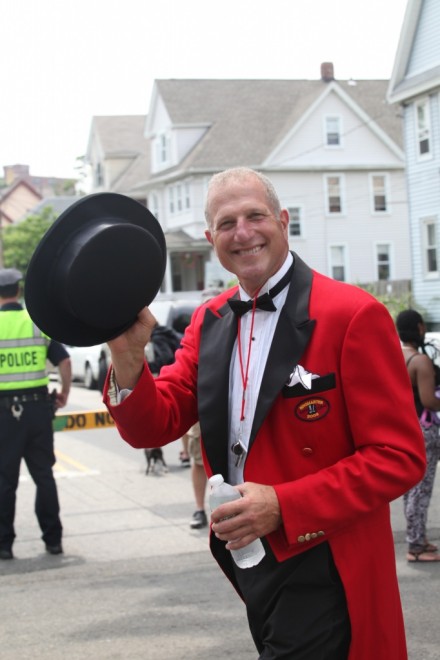 Is he bored? Just having fun? Yes, there's a curious rumor afoot that Shelton Mayor Mark Lauretti, who has deep roots in Bridgeport, is noodling a run for Bridgeport mayor. While a popular Republican mayor of Shelton for the past 27 years, would Mayor Mark really move to Bridgeport against a 10 to 1 Democratic registration advantage? When you're bored and void of any immediate options outside of Shelton following a failed run for governor, fantastical thoughts abound.

Lauretti, a former Barnum Festival ringmaster, has a way of pulling out a few political guffaws from his hat. On Sunday, after leaders of Bridgeport's Columbus Parade festivities could not work out a resolution to police security costs, Lauretti hosted the parade in Shelton.
No serious opponent has stepped up to challenge Mayor Joe Ganim who's eyeing reelection next year.
After a scratchy run for governor in which he failed to petition his way onto the ballot, Lauretti has fallen in line with Bob Stefanowski, the GOP candidate for governor. Now if Stefanowski wins, maybe he'd offer Lauretti a ticket out of Shelton via a commissionership.
Lauretti seems to be titillated about a Park City run. He's not saying a flat-out no, although sources in his circle say he's having fun with the notion.
Lauretti told Neil Vigdor of the Hartford Courant:
"I've said it in casual conversation that I won't mind being the mayor of Bridgeport. I think it's fair to say that I've done my job in Shelton and gotten tremendous results. I think I could bring about a change that is necessary and is required for a city that was once great to be on the track to returning to that greatness."

There are no immediate plans for Lauretti to move to Bridgeport, where he taught science and coached basketball at Central High School during the 1980s, he said.

"My wife might divorce me," Lauretti quipped. "Look, I'm a guy that likes challenges and I guess that's the competitor in me. If you can't be governor, then maybe there are other options for me politically."
Hmmm, maybe Lauretti and Joe could settle the whole matter over a game of one-on-one on the basketball court. Lauretti does have about a 10-inch height advantage. Better than a 10-1 registration disadvantage.
If not height, Mayor Mark and Mayor Joe do have something in common: court records declaring them both "Public Official Number 1."