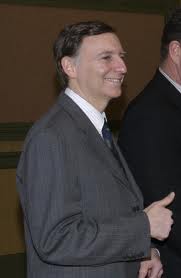 It's not exactly sexy work, and often dizzying crunching budget numbers trying to explain to community watchdogs and City Council members what the financial documents mean. Finance Director Ken Flatto's department has been awarded, among other U.S. municipalities, the Certificate of Achievement for Excellence in Financial Reporting by the Government Finance Officers Association for the Comprehensive Annual Financial Report for Fiscal Year 2017 completed in January 2018.

Citizen fiscal scrutineer John Marshall Lee, who has tangled with Flatto over financial transparency, may be nonplussed by this award. Flatto, however, and a direct staff of more than a dozen working finance, revenues, banking and accounts payable are thankful for the acknowledgement from a government industry body.
"I am thankful for this award of achievement," says Flatto. "It truly means a lot to me and my department. This award goes to show that hard work does pay off."
Flatto had served for more than a decade as first selectman of Fairfield. Prior to his election as first selectman, Flatto was the chief financial officer for Orangetown, NY, and comptroller and deputy commissioner for the City of Yonkers, NY. Flatto is a licensed certified public accountant. He received his MBA from Cornell University.
In March of 2011, Governor Dan Malloy appointed Flatto executive director of the Division of Special Revenue responsible for managing various special revenues and for regulating legalized gaming in the State of Connecticut. Flatto moved on from that position after eight months to take a position with the Jewish Home for the Elderly.
In 2012 Flatto moved to Bridgeport and joined the city's Finance Department in a consulting capacity a few days a week during the Bill Finch mayoral years. In 2015, however, Flatto served as a policy adviser on Joe Ganim's comeback campaign for mayor. After Ganim defeated Finch in a primary on his way to a general election victory, Ganim appointed Flatto finance director. In that role Flatto also oversees the tax and assessor departments.
The Government Finance Officers Association is a nonprofit professional association serving approximately 17,500 government finance professionals with offices in Chicago, IL and Washington, D.C.
Flatto's department received proficient grades in several categories including governmental and proprietary fund financial statements as well as government-wide financial statement, statistical section and formatting. See more on that here.
The Certificate of Achievement for Excellence in Financial Reporting Program was established in 1945 to "encourage and assist state and local governments to go beyond the minimum requirements of generally accepted accounting principles to prepare comprehensive annual financial reports that evidence the spirit of transparency and full disclosure and then to recognize individual governments that succeed in achieving that goal."