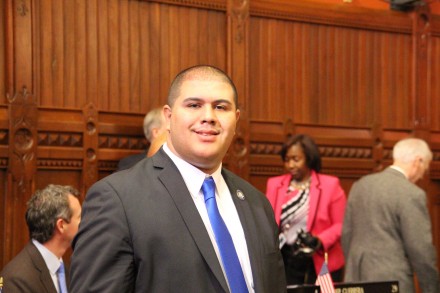 Just days before Christmas, State Rep. Chris Rosario is no longer employed by the city. Last week, Mayor Joe Ganim bulldozed Rosario's job as director of the anti-blight program. His last day on the job was Tuesday.

Rosario says he may return to the city in a different role as a result of bumping rights through his union affiliation with NAGE. Nothing has opened up yet. He's also exploring some private sector opportunities.
Elected to the State House in 2014, Rosario is a member of the city's eight-member legislative delegation that is key in shepherding the city's legislative and financial agenda in Hartford. He had supported Bill Finch for mayor in the Democratic primary won by Ganim and then supported Mary-Jane Foster in the general election. In politics to the victor go the spoils, but Ganim's handling of the Rosario situation considering his role in the delegation is befuddling. Ganim did not extend Rosario a courtesy call about his decision to revamp the blight office and issue a layoff notice presumably to clear the way to appoint a political supporter in that office or perhaps consolidate it into another department.
Rosario had initially worked in the administration of John Fabrizi before Finch elevated him to the blight czar position about four years ago. Although he did not support Ganim for mayor Rosario has said all the right things publicly about working with the new administration in his role as a State House member. In discussing his layoff Rosario had no ill words for Ganim. He said he was surprised he did not even receive a courtesy call from the mayor about Ganim's new direction with the office. As blight director Rosario earned roughly $80,000, his pay docked when he attended legislative duties.
Rosario says project highlights included the nearly 200 units of housing he assisted with the Habitat for Humanity program as well as demolishing blighted buildings to make way for new development projects.
Well liked in City Hall, Rosario says he will be focused on the holiday this week and spending time with his family with an eye toward 2016. "I loved working for the city," says Rosario. "I have a wife and three kids. I have to figure out how to pay the bills."
Rosario is also the leader of the 136th Democratic Town Committee district. His nephew Joel Rosario, a member of the town committee in the 137th District, was also recently pink slipped from his administrative position in the city's police department. Chris Rosario says he will run for reelection to the State House in 2016.