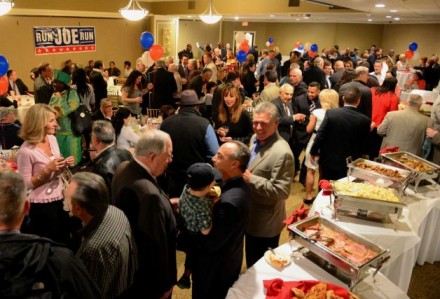 Who played the fool in April 2015? News highlights.
Show us the money, honey. Moolah is the mother's milk of political campaigns. Nothing like a little milk and honey, right? Democratic mayoral candidate Mary-Jane Foster has launched her Facebook page with an appeal to click her contribution website. Mayor Bill Finch, Joe Ganim and Howard Gardner also have loaded donation sites.

Democratic mayoral candidate Howard Gardner, a member of the Board of Education, asserts the city's pulling a dipsy doodle when it comes to financially meeting the state-mandated Minimum Budget Requirement.
Backed by State Senator Ed Gomes, legislation approved by the General Assembly's Public Safety Committee on Tuesday requires police officers to be trained in the use of deadly force and body cameras.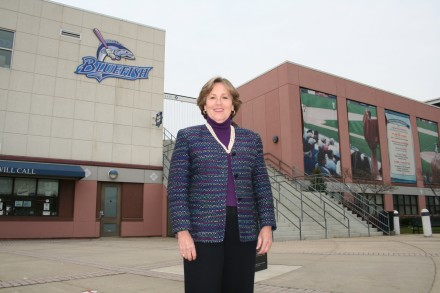 University of Bridgeport vice president Mary-Jane Foster, co-founder of the Bridgeport Bluefish baseball team, joined the race for mayor Monday morning filing a candidate committee in the Town Clerk's Office, her second run for the city's top post she lost in a Democratic primary to Mayor Bill Finch in 2011.
Bridgeport Mayor Bill Finch's re-election campaign announced today Maryli Secrest has been chosen to fill the role of campaign manager.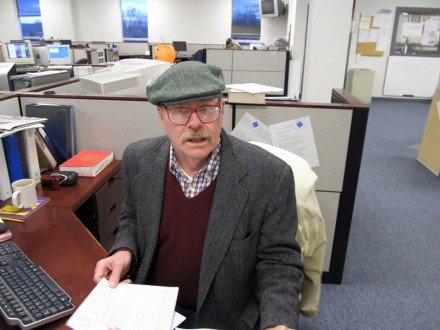 Jim Callahan was among the last of the two-fisted journalists who could turn a phrase and complement it with his own photograph. Raised in a family of nine children, he was a kid from King of Prussia, Pennsylvania–growly, disheveled, outspoken, sweet, sour–who arrived in Bridgeport in the late 1970s geared up to take on politicians, storm meetings, get tossed out of meetings in a gritty city that became his journalistic political playground. It was his life. Callahan on Sunday died in hospice care in West Chester, Pennsylvania suffering throat and esophageal cancer. He was 62.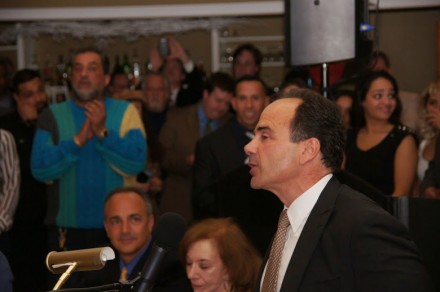 $50K raised. To chants of "run Joe, run" by roughly 300 supporters in a packed Vazzy's Four Seasons in Stratford, former Mayor Joe Ganim Thursday night edged closer to an official entry to try to reclaim the position he was forced out of 12 years ago following his conviction on federal corruption charges.
Election years are generally all about taxes and the budget. Mayor Bill Finch has submitted a $532 million no-tax-increase spending plan to the City Council.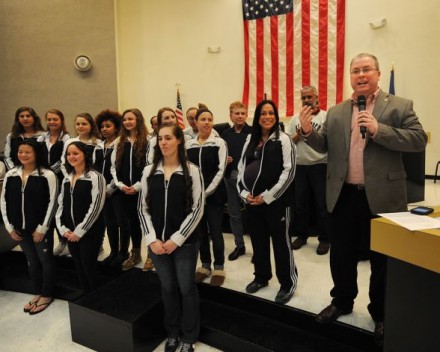 It's bound to come up in a mayoral election: Mayor Bill Finch once again snubbing the University of Bridgeport's contributions to the state's largest city, especially with Mary-Jane Foster, vice president of University Relations, poised to enter the mayoral race. The school's nationally acclaimed gymnastics team did the city proud. And once again City Council President Tom McCarthy paid tribute to the kids with the mayor absent.
As the General Assembly's Appropriations Committee considers funds for public education, the charter school advocacy group The Coalition For Every Child has released a new video featuring a city parent urging funding for the proposed Capital Prep Harbor charter school.
OIB friend Doug Wade (Milkman) who operates the family-owned Wade's Dairy on Barnum Avenue advocates automatic adjustments for the minimum wage to rise along with the inflation rate. Last year the businessman was recognized by President Obama for bringing attention to a hike in the minimum wage.
Grammy-acclaimed vocal groups the Manhattan Transfer and Take 6 will perform in a rare joint appearance at the Klein Memorial Auditorium May 15 at 8pm, the third event honoring its 75th anniversary that will also honor the contributions of Bridgeport's eclectic Carroll family.
Hmmm, city pols take notice. There's always a home in the animal shelter. From public safety spokesman Bill Kaempffer: The mystery of the roaming pig has been solved–and she will travel to new, green pastures. Lolita, the 50-plus pound, five-month-old pot bellied pig was found roaming in the city's North End.
Police are investigating three shootings that occurred Monday, one that left a local man in critical condition.
The city's fifth homicide of the year occurred at just after 3 p.m. The victim, 57-year-old Jose Salgado and his wife were working in their store, Sapiao's Grocery at 351 Lexington Ave, when two men came in to rob them, both armed with handguns.
Will Mayor Bill Finch and Trumbull First Selectman Tim Herbst ever get along? They argue over parks, poop, schools, government reform and building security.
Former City Councilman Tom White provides insight into conflicts that arise with city employees serving on the budget and legislative body. He had served as council staff support but, as he writes, "I stuck my neck out and did what I thought was right by expressing concerns which may be labeled as misappropriation of funds."
2011 mayoral candidate Mary-Jane Foster, considering another run, criticizes Mayor Bill Finch for low police staffing and makeup of the department. From Foster: Mayor Finch's recruiting initiative to hire new police officers is too little and too late. We've known the number of police officers would reach all-time lows for some time.