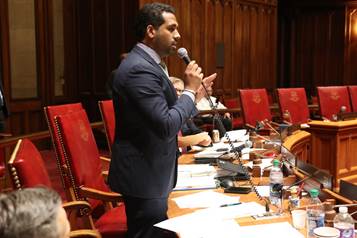 Last week's guilty plea by State Senator Dennis Bradley's 2018 campaign worker Tina Manus offers a glimpse into how federal prosecutors are building their case against the indicted legislator for connivance of Connecticut's campaign finance laws including falsification of donor cards to achieve a public grant approved by the State Elections Enforcement Commission.
Bradley and his campaign treasurer, outgoing Board of Education member Jessica Martinez, were previously charged with multiple counts of wire fraud. Martinez was also dinged with additional counts of providing false statements to federal law enforcement officials.
Manus, a former town counselor from Stratford, waived her right to a grand jury indictment to enter a plea to one count of wire fraud. The government's information charge against her comes as jury selection is scheduled for Dec. 6.
Why this late Manus charge before trial? Probably because Manus was holding out and her able lawyer James Smart, a former federal prosecutor, explained the reality in terms of her future. She is now cooperating with the government to mitigate potential prison exposure.
It also sends a message to Bradley this case is not soft.
The information in the Manus complaint specifies the following:
The object of the conspiracy and scheme was to fraudulently obtain $179,850 in
undeserved grants for Bradley's 2018 campaign by making material misrepresentations concerning Bradley's compliance with state election law and the restrictions and requirements of the Connecticut Citizens' Election Program ("CEP"), a voluntary public election-financing program under which candidates can apply to SEEC for State grants to fund their primary and general election campaigns.

MANUS, Bradley, Martinez and their co-conspirators carried out their conspiracy
in two ways. First, MANUS, Bradley, Martinez, and their co-conspirators used SEEC filings containing material misstatements and omissions to conceal that Bradley had violated the CEP's statutory rules in order to obtain an undeserved $84,140 CEP primary grant and to attempt to obtain a $95,710 CEP general election grant. Second, MANUS, Bradley, Martinez, and their coconspirators denied SEEC, the Citizens' Election Fund, and the State of Connecticut the right to control their assets by using such false and fraudulent documents and filings to deprive them of economically valuable information relevant to the decision of whether and how to allocate public election funds to Bradley.
The wire fraud charges center on the defendants leveraging SEEC's eCampaign Reporting Information System to electronically submit filings containing false statements and omissions, falsifying and altering Citizens' Election Program Qualifying Contribution Certification Forms, and making false and misleading statements directly to SEEC, according to the government.
If this case goes to trial, the government will parade a bunch of witnesses, including state elections officials, campaign workers, financial contributors corroborating the allegations.
It is alleged donor cards were falsified. Those, too, will become exhibits validated by those conspirators at the center of the scheme to defraud at the direction of Bradley.
Texts and emails introduced? You bet. A bunch.
One key text has been made public by the government, the exchange between Bradley and his 2018 campaign consultant Bieu Tran, not charged in the case, who raises the question of blurring a campaign event with a law firm artifice.
"Wouldn't that be illegal?" Tran asked.
"No it's a BDK Law group party," responded Bradley, a lawyer.
Oops.
Bradley also used thousands of his own funds to finance his State Senate announcement.
The government has turned over to Bradley and his experienced defense attorney James Glasser thousands of pages of disclosure material not made public.
Glasser will need to work with more than "rookie mistakes" posturing, as Bradley noted prior to his May indictment, to lance the government's burden of proof before a jury.
An attorney making rookies mistakes about election law? He also makes law in the State Senate? How's a jury gonna see that?
If Glasser, a former federal prosecutor, deems the government's case too daunting of a trial risk, he'll tell Bradley. Glasser will have a conversation with lead prosecutor Jonathan Francis, if he hasn't already, okay what can we work out for my guy?
It ain't gonna be a misdemeanor allowing Bradley to maintain his law license.
Bradley's options? He could probably at least halve his prison exposure with a plea, show contrition, take his medicine, rebuild his law profession down the road and even his political career. Who knows, maybe become a lobbyist. He has a gift for gab.
But maybe he decides it's worth the dice roll to risk three or fours years of liberty versus one or two? And if he testifies, it can only exacerbate the situation.
Francis will fillet him on cross examination.
What to do?
Only one person on the planet can make that decision.
The latest conviction is also bleeding into the Stratford mayoral race where Republican incumbent Laura Hoydick faces a challenge from Democrat Immacula Cann.
GOP Town Chair Lou DeCilio has filed a state elections complaint claiming irregularities with the Democrat's fundraising committee including an event hosted by Manus in August.
"The financial filings from the Cann campaign are messy, incomplete and they don't balance," said DeCilio. "Can you imagine what would happen to the Town of Stratford's coffers if Cann and her team were in charge?"