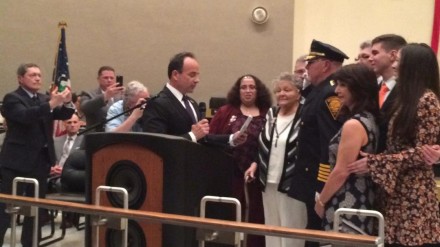 Joe Ganim's political comeback in 2015 was punctuated by a bit of déjà vu. In 1991, the Democratic candidate against Republican incumbent Mary Moran, he carved out a campaign message that focused on strengthening an understaffed Police Department fighting historic violent crime as well as restoring fiscal sanity with a city in bankruptcy court. As Ganim marks his one-year anniversary comeback to the mayoralty this week, we'll examine his first year and prospects for 2017 in the areas of public safety, finances, economic development, education and government reform.

Public Safety
On the 2015 campaign trail Ganim was a one-man riot squad castigating incumbent Bill Finch on public safety. Sometimes you can make your own good fortune in campaigns but timing and luck were certainly on Ganim's side, buoyed by Finch's campaign gaffes. A wave of violent crime, particularly in the Trumbull Gardens housing project, galvanized a Ganim message to beef up the strength of the department, increase patrols and open a police substation. In the final days of Finch's mayoralty, a gesture viewed as sticking it to Ganim, Finch handed Police Chief Joe Gaudett a new five-year contract. Gaudett had warred on a number of fronts with the police union whose membership had overwhelmingly supported Ganim's comeback. Ganim had announced on the campaign trail he would not reappoint Gaudett. Finch threw a grenade into his plans.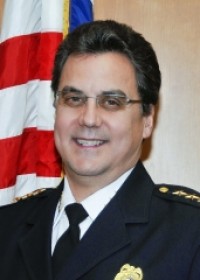 One of Ganim's early actions as mayor, after receiving the oath of office December 1, was the hiring of former chief Wilbur Chapman as "senior adviser for public safety" at a rate of roughly $128,000 a year, working out of the mayor's office. Observers viewed Chapman whom Ganim appointed chief during JG1 as a hatchet man who'd help Ganim reorganize the Police Department as they pondered removing Gaudett to replace him with Ganim's long-time friend and supporter Armando Perez.
Under a charter change approved by voters more than 25 years ago, the police chief can serve up to two five-year terms ultimately selected by the mayor. The second five-year contract represented a financial package of more than $600,000, an expensive transaction for a complete buyout. Lawyers in the City Attorney's office commenced negotiations with Gaudett for a partial buyout of his contract or in lieu of that a consulting gig. It was decided as long as they were required to pay Gaudett, they should make use of him. By mid-February a deal was struck with Gaudett for him to oversee the Office of Emergency Management and the Communications Division. In exchange he would resign as chief once the contract was approved by the City Council. Under the terms of the agreement Gaudett will receive $125,000 per year for three years with two option years.
On March 1, Gaudett resigned. Ganim then installed the genial Perez as acting chief. Critics of the move observed Ganim was paying three chiefs in some capacity. A major law-enforcement obstacle for the new chief is a sorely understaffed department that was roughly 90 sworn officers below the 440 or so considered prime operational strength when he assumed command. In September a new class of about 30 was sworn in. Another class of approximately 30 is also underway, but can the new recruits keep pace with retirements or other officers recruited by area towns offering more money and benefits?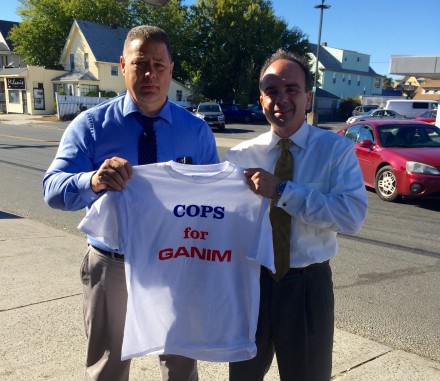 In the spring, living up to a campaign pledge, Ganim announced the opening of a police substation and community center for the high-crime Trumbull Gardens area in the North End.
Violent crime can often take on a a life of its own as it did during the 2015 campaign, but this year so far has been quiet by comparison, eight homicides to date this year versus 16 at the same time last year.
Ganim also experienced changes with the leadership of the Fire Department.
In June, Ganim named Richard Thode provisional fire chief following the retirement of Brian Rooney and also appointed Lance Edwards deputy fire chief. Ganim says Thode will lead the department on an interim basis until a permanent chief is appointed through a civil service testing process. The fire chief can also serve for up to two five-year terms.
Ganim has taken heat from past and current members of the Bridgeport Firebirds, an organization that fights for the rights of minority officers, for not elevating blacks and Latinos to leadership positions in the Fire Department.
Next: Finances.