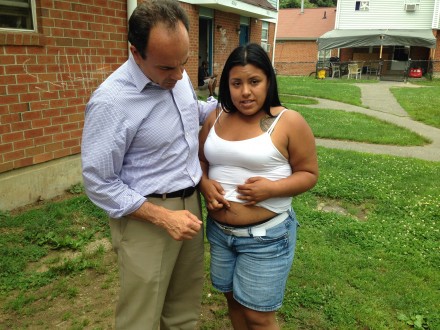 Mayor Joe Ganim has submitted a draft lease agreement to the City Council regarding a police substation and community center site located at Trumbull Gardens housing units, a flashpoint of the 2015 mayoral election following intense gun violence. The lease agreement will be referred to the Contracts Committee at Monday night's council meeting. The Ganim administration has not yet released a copy of the proposed lease agreement.

Trumbull Gardens was the scene of dueling police substations last year. In response to the violence Ganim opened a police substation/campaign headquarters that was manned by off-duty cops. Then-Police Chief Joe Gaudett declared department members are prohibited from politicking as police officers. Ganim received the endorsement of the Police Union. Then-Mayor Bill Finch opened a temporary police substation there in an effort to appease voters as Ganim had seized upon public safety as a major issue.
Voters at the Wilbur Cross precinct where Trumbull Gardens votes rewarded Ganim with a large plurality on his way to a tight September primary win over Finch. Ganim advanced to the general election and won that handily.
The council's Budget and Appropriations Committee is reviewing Ganim's proposed $560 million budget that flat-funds education, cuts libraries but increases public safety spending.
In March Ganim, with Police Chief AJ Perez, announced a newly reopened police substation near Trumbull Gardens. Ganim established a Community Policing Task Force that includes two sergeants and sixteen officers assigned to Trumbull Gardens, Charles Greene Homes, P.T. Barnum Apartments, Marina Village and Harborview Towers. Officers are deployed over two eight-hours shifts per day. New security cameras in public housing locations will connect to the police monitoring center at 999 Broad Street that Ganim says will produce real-time intelligence in response to public safety.
See council agenda here and addendum here that includes authorizing capital improvements for the Crescent Crossing housing development on the East Side.