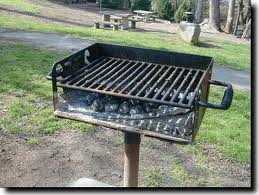 Retired city firefighter Andy Fardy writes if the City Council approves a proposed smoking ban in city parks, they must also extinguish charcoal grilling. From Fardy:
I would like to comment on the recent meeting of the ordinance committee in which they discussed a smoking ban in the parks. My question is why pass another law that will not be enforced and if it is do I want to tie up one of the few patrolmen we have in the streets with this nonsense? It's like the curfew law. How is that going?
I am a former smoker who 10 months ago was found to have COPD. I have that disease and I have no one to blame but myself. I still feel we should not pass this law. If we do ban smoking, shouldn't we ban the use of charcoal grills in the parks? I know that sounds silly but there is a health hazard in burning charcoal.

Dr. Michael Roizen MD in Internal Medicine states charcoal produces soot that irritates respiratory conditions such as Asthma and releases carcinogenic VOC Benzene so stay away from the smoke. He also states stay away from quick-start charcoal soaked with lighter fluids.

So I guess if we are going to protect the public in the outdoors from smoking then we have to do the same with charcoal grilling.