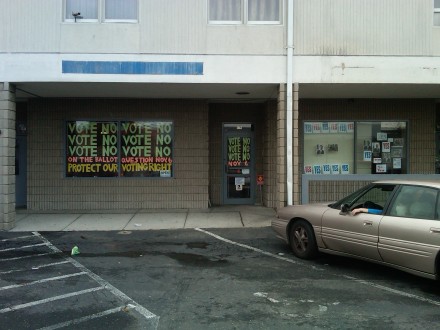 The eve of the election is upon us, the majority of the work is finished: door knocking, phone calls, lawn signs, mail pieces, radio, television. Field operations are poised to hit the ground, final phone calls will flood districts. Rev. Al Sharpton, Governor Dannel Malloy and Mayor Bill Finch rallied Dems at Mount Aery Baptist Church Sunday night. Six days ago many voters were under water or running for cover from Sandy's wrath. Everything might not be quite normal, but close to it. The presidential race nationally appears close. In Connecticut the U.S. Senate battle between Republican Linda McMahon and Democrat Chris Murphy appears close to replace a retiring Joe Lieberman. And in the state's largest city voters will decide a historic ballot question for the future selection of school board members.

Never before in Bridgeport–be it a mayoral race or any other–has so much dough been spent to sway voters. How many of Bridgeport's roughly 70,000 registered voters will show up Tuesday? And how many will vote on the ballot question? Using the 2008 presidential turnout in Bridgeport as a model, roughly 40,000 residents cast a ballot. Will there be a big dropoff from those who cast a ballot for president to those who vote for the ballot question? The tallies could very well be decided by the forces that best remind electors approaching polling areas to cast a vote.
"Don't forget to vote yes!"
"Don't forget to vote no!"
And so it will go in front of 24 polling locations. Yes means the mayor will choose school board members. No means voters will elect them.
(A video from the mischievous former City Councilman Joel "Speedy" Gonzalez)
So how about predictions for your favorite races? Let's start a little contest for the ballot question. Will yes win and by how many votes? Will no win and by how many votes? The winner will receive a copy of my book Only In Bridgeport because that's what we're all about, aren't we? You already have a copy? No problem, present it as a holiday gift, present it to your favorite pol with a Mickey (oops), use it for firewood, use it for any reason you deem necessary. And oh yeah, I'll even throw in dinner at your favorite city restaurant.
So what say you?