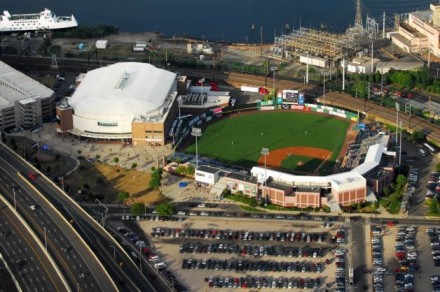 A traffic jam from downtown Bridgeport to the South End? Who'd have thunk it? To paraphrase Yogi, Bridgeport is crowded … nobody goes there anymore.
Friday night a convergence of American Idol fans at the arena, Bluefish fans at the ballpark and ferry fans at the terminal provided some driver agita. Downtown to the South End was jammin' with folks. Shoot, I remember when the only traffic south of the turnpike was seagulls. Or maybe a few suburban drug buyers.

Yes, traffic is a pain in the butt, but I'd rather have it than not. Which brings us to tonight, two key meetings. The City Council's Budget and Appropriations Committee is expected to hear from city bean counters about the status of the $8 million budget hole it passed that was ultimately approved by the full council. So, instead of having the stomach to deal with the problem then they'll hear about it now and probably do nothing. Closing the gap relies heavily on employee givebacks.  Meanwhile, every day that passes into the budget year that began July 1 makes it tougher to close the gap.
Also, tonight Planning and Zoning took up a proposal by the ferry company to move its terminal to the East End. (See Town Committee's report under comments.) This is hot stuff. Would it be more valuable to the East End than downtown? Depending on the economy roughly 500,000 folks each year transport to the other side of the Long Island pond and back. That's a lot of peeps to potentially help support local stuff. Land use lawyer titans Ray Rizio, for the ferry company, and Chuck Willinger, for business interests that want to keep the ferry terminal downtown, duked it out into the wee hours at the last meeting.
Supporters of a downtown ferry location explain their position:
FERRY LOCATION KEY TO BRIDGEPORT'S FUTURE

Intermodal Center location a must for economic development

The location of the Bridgeport-Port Jefferson Ferry at the Water Street Dock adjacent to Bridgeport's Downtown and its importance as a key component of the regionally unique and essential Intermodal Transit Center is vital to the economic health and future development of this great City. Not for the Downtown alone, but for the entire City and region.

Bridgeport's time has come. We have all heard it many times. We all have guarded optimism for what we hear and read, yet know in our hearts what is possible; Bridgeport has all the makings of being a successful, renaissance, green, model City from here forward if we join together and do things for the greater good. The "Greater Good."  Not one neighborhood or NRZ, not one company or business, not any special interests, but for the best possible impact and benefit of every person in Bridgeport and the region; resident and visitor alike.

What then is the impact on this deserving future Bridgeport if the Ferry terminal were to be relocated from its current location? Consider these facts that were not indicated in the CT Post's Editorial of July 4th:

● Through a Connections Study commissioned by the Business Community and the DSSD to evaluate opportunities to enhance the connection between the intermodal center components, the downtown and the surrounding neighborhoods of the City, it has been demonstrated that the Ferry Company's needs for additional ferry berthing, improved pedestrian boarding, vehicular access and stacking and additional parking can be achieved in the current location. Additionally, federal and state grant funds were provided and used to fully design the second ferry berth and structured parking garage on the existing property to meet their operational requirements and maintain their location as an integral component of the Intermodal Transit Center (ITC).  The funding agencies viewed the ITC as a fundamental competitive advantage for Bridgeport's economic development and growth.

● The State DEP, State DOT, the Bridgeport Harbor Commission and the Bridgeport Port Authority all wrote letters after reviewing the proposed relocation submission to strongly recommend denying the application on the grounds that the existing location can be modified to accommodate the facility improvements they seek, the use of

· The relocation site for a ferry terminal undermines the intent of the Harbor Management Plan and the City's Master Plan of Conservation & Development to accommodate deep water dependent uses on that site and the existing location allows the ferry to be integral to the Intermodal Transit Center, the Downtown and the future adjacent Steelpointe Harbor development.

● The application submitted by Coastline Terminals (property owner) with the Ferry Company for the relocation site is flawed and inadequate in its provision of data related to traffic generation and roadway improvements.

· The potential adverse impacts to East End residents and Bridgeporters alike from traffic congestion, increased air and noise pollution and storm water management deficiencies were not addressed that could further impact system overloads.

On the merits of the application itself, it is clear that the Planning and Zoning Commission has no choice but to deny this application.  However, we should not take solace or joy in this action as the Bridgeport-Port Jefferson Ferry is an important partner and component of this City and its future and we need them to prosper and grow in step with the City. The growth should occur in Bridgeport's downtown core at the Water Street Dock and Intermodal Transit Center.

"Without a strong and inclusive central heart, a city tends to become a collection of interests isolated from one another." 1961, Jane Jacobs, "The Death and Life of Great American Cities."

Paul Antinozzi, Antinozzi Associates; Co-Chair Downtown Task Force

Pat Fardy, Former Chairwoman, Planning and Zoning Commissioner and Co-Chair Master Plan Steering Committee

Mary Jane Foster, Vice President, University of Bridgeport

Joel Z. Green Esq., The Law Offices of Green & Gross, P.C.

Nancy Hadley, Hadley Group LLC and City Trust Resident

Thomas R. Hessman, Senior Vice President, RBS Citizens

Ron Kilcoyne, President, Greater Bridgeport Transit Authority

Kris Lorch, President, Alloy Engineering Co., Inc.

Kim Morque, Vice-Chair, Bridgeport Downtown Special Services District; President, Spinnacker Real Estate Partners

Denis O'Malley, Chair, Bridgeport Port Authority

Anthony Onorato, Daily ferry commuter from Long Island who works Bridgeport

Ernest C. Trefz, Trefz Properties

Aaron Woskoff Esq., City Trust resident–recently moved from Long Island to Bridgeport
From Dan Malloy:
MALLOY AGREES WITH WEICKER: LAMONT SHOULD DEBATE

Dan Malloy, the Democratic Party's endorsed candidate for Governor, today agreed with former Gov. Lowell Weicker, who said yesterday that Ned Lamont should debate Dan Malloy in New London on July 27. In an interview yesterday on WNPR, Gov. Weicker said he thinks "it's important that anybody in this business of politics and government be able to stand on their feet in an impromptu way and reveal themselves to the public" and that he has "always been a great believer in debates."

Said Malloy:

"At this point I think the only person who doesn't think there should be a debate is Ned. Even Gov. Weicker, a strong supporter of Ned's campaign, thinks Ned should do it.

"Gov. Weicker said yesterday that the skills he brought to bear in debates served him well in doing the job of Governor because 'there's no ducking that kind of confrontation.' I couldn't have said it better myself. Being Governor is about more than having good ideas – it's about being able to make your case to the people of Connecticut, building consensus around your vision, and moving forward together. That's what leadership is all about. I'm again urging Ned to change his mind, and to meet me for a positive discussion about Connecticut's future."
From Mayor Finch:
The City of Bridgeport Presents the Bridgeport Arts Fest – July 17, noon-6

Bridgeport—The City of Bridgeport's Office of Planning & Economic Development is hosting the first annual Bridgeport Arts Fest. The Arts Fest—a one-day gathering of artists, artisans, craft makers, musicians and performers—will take place on Historic McLevy Green in the heart of downtown Bridgeport on Saturday, July 17 from noon to 6 p.m.

"Bridgeport has always been home to a thriving arts community," said Mayor Bill Finch. "This first-ever festival will provide our artists and artisans an opportunity to showcase their talents to a wider audience, while giving visitors an opportunity to enjoy an afternoon in our revitalized downtown – seeing great art, listening to music and sampling our diverse restaurant fare."

In addition to exhibits of work by area artists, the Arts Fest will delight food and drink lovers with fare selections from local restaurants, craft brewed beer from Connecticut's Thomas Hooker Brewing Company and tastings of local home-brewed beer, provided by Maltose Express of Monroe.

For Arts Fest founder Donald Eversley, the City's Director of Planning & Economic Development "a thriving arts community is a critical piece to all of the recent urban renaissance stories – from Baltimore to Brooklyn to Providence – our agenda is to build on the good momentum already present in the local art scene."

Two of Connecticut's premiere homegrown bands—ST. BERNADETTE and COSMIC JIBAROS—will provide musical entertainment on the McLevy Green stage.

St. Bernadette, led by producer and guitarist Keith Saunders and femme fatale vocalist Meredith DiMenna, with mainstay slide guitarist Joe Novelli, bass player Brian Anderson and drummer Dave Valle, is known for meshing "a disparate template of psychedelic-meets-arena rock, with a peppering of jazz, all candy-coated with sing-along choruses."

Cosmic Jibaros, fresh from an appearance at New Haven's International Festival of Arts & Ideas, is redefining the Latin rock band. This cross-cultural group's highly danceable songs are sung primarily in Spanish, with charismatic lead singer Ricardo Reyes supported by funky guitars, accordion flourishes, and three percussionists.

Children's arts activities will be presented throughout the afternoon by Neighborhood Studios of Fairfield County. In addition to a lineup of exciting area bands, the Arts Fest will feature performances by the Neighborhood Studio's youth jazz ensemble and, under the direction of Barbara DePaff, the Ralphola Taylor Community Center's award-winning youth African dance ensemble.

An alternative to other area arts festivals, the July 17, Bridgeport Arts Fest showcases the extensive diversity of local talent in and around Bridgeport. Bring your family, friends and pets and rediscover downtown Bridgeport while you're at it!

Arts Fest is seeking artists and their works in all mediums, including but not limited to:

Original Art:

o Drawings
o Comics/Graphic Novels
o Graphic design/Prints
o Illustrations
o Mixed Media
o Mosaics
o Paintings
o Photography
o Sculptures
o Ceramics

Crafts & Handmade items:

o Accessories
o Bags/Purses
o Books
o Clothing
o Dolls/Toys
o Furniture
o Jewelry

If you create, design, make or imagine something that you want to share, give, sell others, or for more details, contact Ben Henson at ben.henson@bridgeportct.gov or (203) 576-3972 to reserve your area and/or booth today!