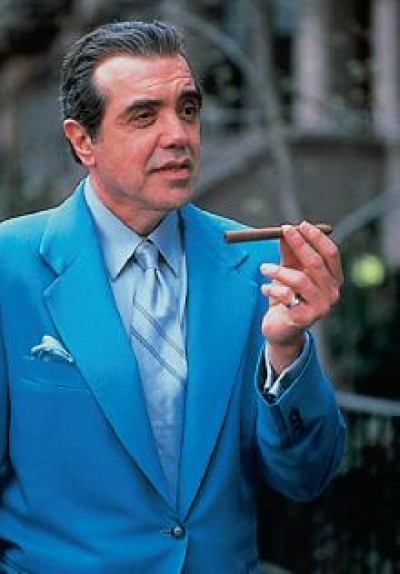 The Connecticut Post published a profile Sunday of developer Sal DiNardo, patriarch of Peter DiNardo Enterprises, a commercial real estate company. Scribes Michael Mayko and Keila Torres Ocasio presented a balanced view of the irrepressible developer who allowed them access to his real estate world to show he's made of flesh and blood and not stitched body parts jolted by lightning. Sal is not comfortable with scribes and ya never know what he might say. "Hey, are you listening to me!"

My coffee tasted mighty cold last Sunday when I picked up the paper to see I was a cover boy. Jesus, my "friends" at the Connecticut Post put me next to Russell Peeler! They didn't show Sal's mug next to a convicted killer, as they did me, but this may be the first time Sal has posed for media shots. I'm sure some OIB readers would prefer it a mug shot.
The Post threw a spotlight on Sal, his business, his tax payments (or not). DiNardo and the city recently came to terms on a remediation plan for the vacant former Remington site on Barnum Avenue. Sal also owns the property that was recently blowtorched by the zoning commission for a proposed halfway house for men in the West End. DiNardo also cleaned up a portion of the dirty Bridgeport Brass site, with a tax break from the city, that is home to United Rentals and is generating tax revenue.
Sal, one of Bridgeport's ultimate characters, inspires much passion, especially here on OIB. I started thinking (always a dilemma for me) what actor would best portray Sal in a film version of his life. It has to be Chazz Palminteri. Put Chazz in an orange suit and it would be perfect. Let's have a little fun this weekend. Who would be your acting choice to play Bridgeport's high-profile pols in a film version of Only In Bridgeport? Mario Testa (Danny DeVito), Joe Ganim (Sean Penn), Bill Finch ( Kevin Nealon), Chris Caruso (Chris Farley, okay okay, I know he's dead), City Council President Tom McCarthy (Jerry Mathers). What say you?