Update includes health code violations documents. Backed by Mayor Joe Ganim, City Councilman Ernie Newton and Captain Lonnie Blackwell, City Health Director Maritza Bond on Wednesday leveraged the powers of her office to cite nearly two dozen health code violations to temporarily shut down the Sunshine Deli on Stratford Avenue that officials maintain is a gathering spot for violence in the East End.
"At the end of the day, no resident, no community member should be accepting any sub-par services," Bond said. "Their health violations were so significant that we had to close them down. That already, is an alarming issue. It's a chronic condition; it's not an issue that arose overnight."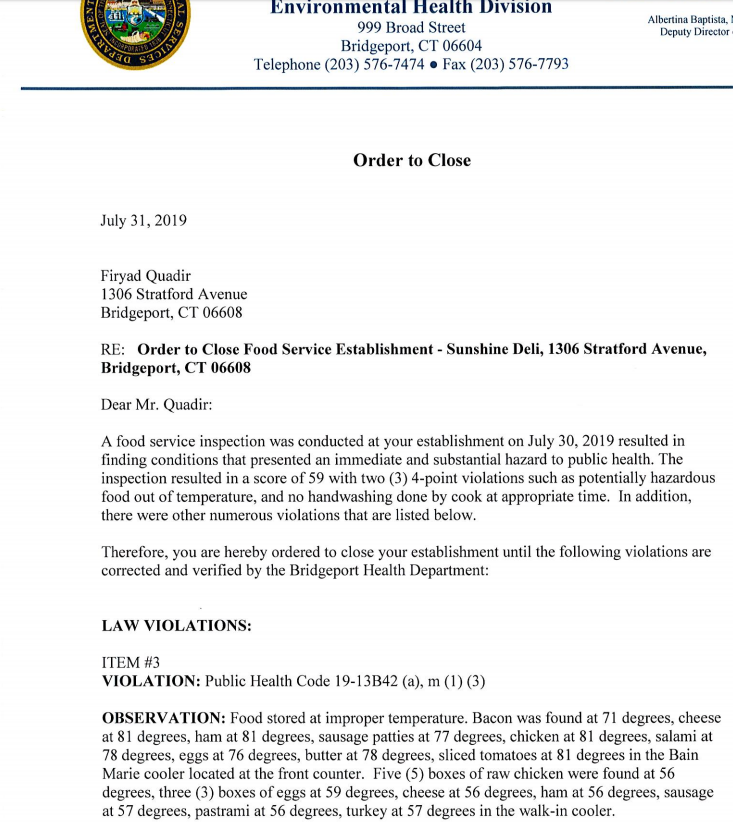 See full listing of violations issued by health director 1306 STRATFORD AVE SUNSHINE DELI_ Closure Notice 2019.
Email from Bond to city agency leaders:
This email serves as formal notification of the Notice of Closure of Sunshine Deli located at 1306 Stratford Ave. This establishment violated significant health violations, thus was ordered to close until all violations are in compliance. Attached you find the letter to the owner outlining the health violations codes not met during the inspection. Please note, unless you receive a notice from me this business should not be operating in any capacity.
Four years ago the East End produced a massive plurality in Ganim's return to the mayoralty, a key voting area he wants to cement against the insurgent State Senator Marilyn Moore whose campaign operation is circulating petitions to qualify for a September 10 primary.
Ganim is not taking Moore lightly judging by his intensive door-knocking in recent 90-degree heat.
Look for Ganim to organize many more of these quality of life press events.
See News 12 video coverage above.