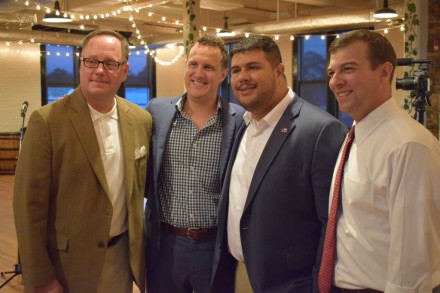 Connecticut's brew pubs have become the new town meeting centers. Bridgeport has its Brewport and others, Stratford has its Two Roads and others. Monday night at Two Roads, a collection of political activists and elected officials bantered about problems and solutions to the chemical fire that is the state budget process, the 2018 gubernatorial cycle, as well as local, state and federal issues. Bridgeport was well represented at Politics And Pints night including a visit by Mayor Joe Ganim and some members of the city's state legislative delegation.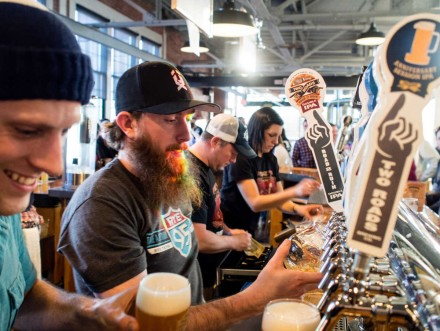 The driving force behind Politics And Pints is the Campaign For Tomorrow's Jobs. Led by Brett Broesder who served as communications director for former Mayor Bill Finch, and education and manufacturing advocate Bill Phillips, the advocacy organization is focused on spurring economic growth in Connecticut. Backed by the readership power of Tom Dudchik's CT Capitol Report, the go-to site for statewide government and politics, Campaign For Tomorrow's Jobs is crafting an egalitarian platform of discussion. As Dudchik points out, "That's the problem in politics. There's not enough people getting together over a beer, over a pint and talking about the issues that divide us and that bring us together … The town green, the soapbox, is now the breweries."
"As we seek out economic growth industries statewide, craft breweries are serving as a bright spot in our state's economy," says Broesder. "The number of brewpubs in the Nutmeg State has tripled over the past decade and the industry currently has a $1 billion economic impact annually. They also serve as a hub for people to come together, and despite their political affiliations, they can enjoy a pint of high-quality beer and find common ground. When it comes to "Politics and Pints," folks can come for the beer and stay for the conversation."
The number of active craft breweries in Connecticut has jumped from 16 to 49 in 2016, according to the Brewers Association. In addition, nearly 40 new craft breweries are in planning stages.
Why the brewery boom? Craft breweries have married into the state's brownfield program. The former U.S. Baird site in Stratford was cleaned up and converted into Two Roads Brewery, one of the largest craft breweries in the state. Five years ago a new state law allowed for craft breweries to open onsite taprooms that didn't require food service. Prior to that breweries could only provide tastings or required a liquor license as a brewpub serving food along with beer.
In the latest session of the General Assembly a new law also passed creating a farm brewery manufacturers permit allowing permittees to manufacture and sell up to 75,000 gallons of beer a year, advertising the product under the Connecticut Craft Beer banner.
Campaign For Tomorrow's Jobs is planning a number of Politics And Pints events around the state.
And just in case you're wondering about some of the skinny that emerged from the flow of brew and bantering Monday night, a number of pols speculated about the next City Council president. A sleeper may very well be councilor Aidee Nieves who represents the East Side 137th District. Nieves attended Politics And Pints.
"Aidee, you running for council president?"
All we could get was a smile.
Tom Dudchik Video Merged from Campaign for Tomorrow's Jobs on Vimeo.