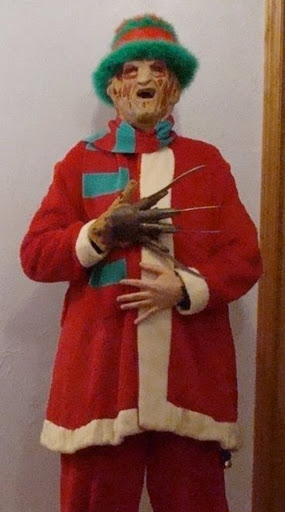 Who needs peace, love, goodwill, prosperity and diplomacy when we have good old Santa Claws to scratch out goodies? Yes indeed, it's time for OIB's annual gifts to a vast collection of great and near-great local and state pols. I'll be up to my ears in squid and other things today. No squid pro quo. Meanwhile feel free to add to this list of insightful gifts.

State Rep.-elect Christina Ayala: A good lawyer to survive the state investigation into alleged election improprieties and a navigation system to find her district.
Former City Councilman Bob "Troll" Walsh: A pacifier for boycotting OIB in protest of his anonymous handle elimination.
Superintendent of Schools Paul Vallas: A Board of Education contract making him the highest paid school chief in city history.
Democratic Town Chair Mario Testa: A political pulse.
Outgoing Democratic Party Vice Chair Dottie Guman: A lifetime of free food and drink from Mario's restaurant.
Republican Town Chair John Slater: A blood transfusion for his party from Abe Lincoln.
Bass Pro Shops: A finalized deal with the city and state in 2013.
Mayor Bill Finch's Chief of Staff Adam Wood: A big-paying private-sector gig, now that he's a tenured city employee.
Mayor Bill Finch: A charter revision question that voters can swallow.
Charter Revision Panel: A ballot question that doesn't cost $1 million in campaign expenses.
City financial watchdog John Marshall Lee: An army of forensic accountants.
Government watchdog Andy Fardy: A drink with Cheyenne Jackson. (That would be a hoot!)
Governor Dannel Malloy: A calculator that works.
City Councilwoman Lydia Martinez: A gallon of disappearing ink for her absentee ballot operation.
City Councilman Andre Baker: Backbone insertion into his council mates.
Bridgeport City Council: Required reading of the City Charter.
State Sen.-elect Andres Ayala: Truth serum to know he actually endorsed his cousin Christina for his State House seat.
Barack Obama: An assault weapons ban, a balanced budget and Congressional sanity. (We're not asking for much, are we?)