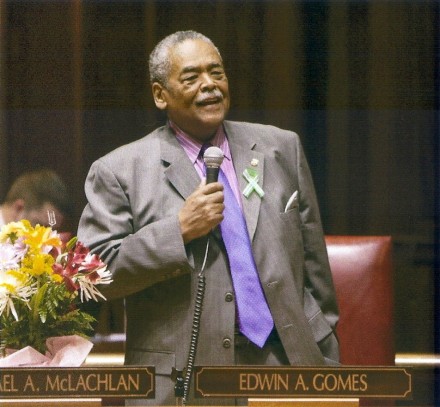 We may never know a politician in our lifetime like Ed Gomes. Honest, decent, caring, brutally candid, perhaps too candid for his own good. If he likes you he'll tell you. If he doesn't like you he'll tell you … right to your face. It's the only way this retired steel worker knows how to be.

Ed Gomes has seen a lot in his lifetime. Civil rights struggle, marching on Washington, fighting for workers rights as a labor leader and election to the City Council and then State Senate. Ed was never buds with Mayor Bill Finch and it cost him at the ballot box, as the mayor's political operation supported Andres Ayala in the August State Senate primary in which Ernie Newton finished a close second and Gomes a distant third.
Although Gomes was defeated by Ayala and Finch et al, Ed extracted a chunk of revenge in November, joining a coalition of city pols and organizations to defeat the ballot question keeping selection of Board of Education members with the people and not the mayor who put his prestige on the line asking voters to grant him the power to appoint school board members.
Ed Gomes bid farewell to the State Senate last week. He is the ultimate political warrior.