What are gig workers? This involves ridesharing services, artists, graphic designers, musicians, restaurant delivery, freelance writers. They are adding mightily to the economy of Bridgeport and the region, according to a report from the Better Cities Project which calls it "America's fastest growing workforce trend."
Bridgeport-Stamford-Norwalk is fourth on the list.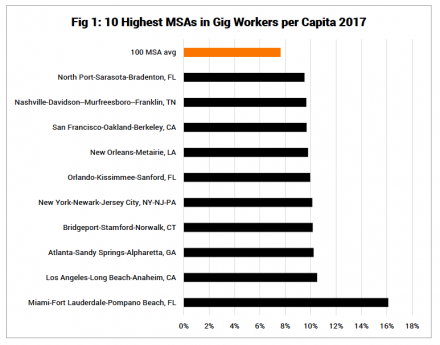 Some cities leverage the gig economy better than others–and policy decisions are key

The rankings shown in this report have a lot of inputs–state policy and local economic conditions, to name but two. It's important to ask: Is your city's position the result of demand for gig work? Or have policies discouraged flexible work options for some even if they were well-intended?

Gig work is neither a fad nor something policymakers should reject in pursuit of undefined "good jobs." Any workforce trend that has been embraced by millions of workers across the country deserves thoughtful, enabling policy from local leaders. And any city, armed with the recommendations in this report, has the tools to help its gig economy thrive.
Marc Fitch, from the Yankee Institute, has more:
However, the success and growth of new app-based work has also garnered the ire of lawmakers and business competitors who are looking to regulate, tax and, in some cases, destroy the business model of the booming industry.

Most notably, a California law that would classify Uber and Lyft drivers as employees rather than independent contractors was largely overturned by California voters in a referendum vote. It also had the unintended consequence of media companies dropping much of their freelance writing staff.

In Connecticut, a similar proposal put forward this year with strong backing by labor unions sought to organize Uber and Lyft drivers. However, the bill did not receive a vote by the Labor and Public Employees Committee.

A separate bill that would have amended state statutes to classify gig workers as employees rather than independent contractors was changed to require the Department of Labor Commissioner and the Worker and Immigrant Rights Advocacy Clinic at Yale University to study Connecticut's gig economy and "make recommendations for legislation to prevent companies from improperly classifying workers as independent contractors instead of employees."