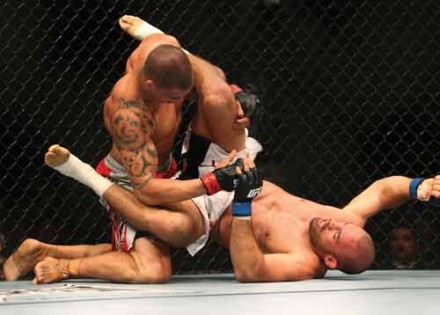 Mayor Joe Ganim on Tuesday testified before the state legislature's Public Safety Committee in support of Mixed Martial Arts matches taking place at the Webster Bank Arena, declaring "Those professional bouts filling up the arenas at the XL Center in Hartford and the Webster Arena in Bridgeport can add up to millions of dollars in economic development for our downtowns." Lawmakers, including Bridgeport State Senators Ed Gomes and Marilyn Moore, have rejected legislation in the past citing violence as well as lack of healthcare and labor protections for the combatants. Gomes and Moore have said they will reexamine the legislation provided their concerns are resolved.

Ganim's prepared remarks:
I am here today to testify in support of House Bill 6266 "AN ACT CONCERNING BOXING EVENTS AND MIXED MARTIAL ARTS MATCHES"

More importantly, I am here to support the efforts of legislators from the Hartford and Bridgeport areas who are committed to improving economic conditions in challenged communities.

In a year when the governor of our state is talking about pouring serious money into investing as much as $250 Million in the capital city's sports entertainment complex, we have a real opportunity with this bill to make Connecticut–Both Bridgeport AND Hartford–a destination for top-grossing competitive sporting events.

We held a summit not too long ago in Bridgeport with the Connecticut State Boxing Commission and representatives from UFC, the league that governs extremely profitable mixed martial arts or MMA fights nationwide.

This is a really exciting time for both sports. There are boxing and MMA matches being staged literally all over the world pulling in millions of dollars in revenue and thrilling multiple generations of fans.

Just not in Connecticut.

There are two very simple reasons for this.

The first is that Connecticut charges higher taxes–a total of 15% of the revenue from boxing matches–in admissions taxes. That makes us non-competitive with neighboring states such as New York, Massachusetts, Rhode Island.

Even the tribal casino areas in Southeastern CT have a more favorable tax structure in place to actually stage boxing matches.

So this bill proposes to eliminate the admissions tax on boxing matches. Now I know that might seem like an odd thing to promote in a year when you are all struggling to balance a 1.7 Billion dollar deficit.

But think about it in reverse: Because of our tax structure, we are currently attracting NO boxing matches in Connecticut. If we cut our taxes, we would literally make Connecticut a destination for some prime-time professional bouts.

And I'm not talking about the political bouts in this building.

Those professional bouts filling up the arenas at the XL Center in Hartford and the Webster Arena in Bridgeport can add up to millions of dollars in economic development for our downtowns.

The restaurants do well, the retail shops do well, the hotels do well–and even though under this bill the state doesn't get a direct cut of the take at the door, the state still earns greater sales tax, hotel and restaurant taxes as a result of the major crowds heading to these fights.

So I see this overall as revenue positive legislation.

Plus, with a destination for professional fights in our downtown arenas, it will really help our efforts to market these downtown areas to other businesses and potential future residents to grow our economic base.

As the Governor and many others have said, we MUST invest in our cities as the engine that drives the economic train in Connecticut.

This is a great opportunity to do that by supporting this bill and all the economic development it can potentially bring to our cities.

In Bridgeport we have a prime location to draw in fans from all over the Connecticut and New York region–we are easy to get to by car, train and ferry from Long Island. We have great downtown restaurants and hotels, and plenty of parking for anyone who wants to come see a boxing or MMA fight.

Now while the economic development potential is very strong for professional boxing in Connecticut–it is even more so for MMA.

Mixed Martial arts is one of the hottest sports on the planet–its matches gross millions in revenue per event.

Let me just show you some statistics from a recent MMA tournament–UFC 205 at Madison Square Garden last year.

It brought in:
More than 20,000 fans
Nearly $18 Million in ticket sales alone
More than $37 Million in overall economic impact to the New York economy, including more than $18 million in salaries and wages, and $1.6 Million in tax revenue for New York.

That is from ONE event.

But under current law, we can't do that in Bridgeport or Hartford. And that is because of an arbitrary insurance regulation designed to keep Mixed Martial Arts out of Connecticut.

Four years ago, the Senate President at the time, Don Williams–who did not like MMA–put in a provision that required fight promoters carry insurance so they can cover an injury a fighter suffers for the life of the injury.

There is no state in the country that has that type of restrictive insurance regulation on mixed martial arts fighting.

This was designed to stop MMA fights from happening in Connecticut and it has succeeded. But in doing so we have denied some major economic development to our urban areas that need it most.

This bill would remove the language requiring insurance coverage by promoters for the life of an injury and replace it with more reasonable and common language which provides full coverage for the treatment of injuries suffered in MMA matches.

Making this simple fix will open the market and put Connecticut on the map for some prime-time MMA bouts, drawing in fans and the dollars they bring to our cities.

I recognize that MMA fights are not for everyone, and I accept that. But what I would say is:

You don't have to go to a fight or watch it on TV.

But let's not cut off an entire sport from competing in Connecticut. MMA is a legitimate sport that people all over the world follow and compete in. It could provide real economic development that our cities need to the tune of millions of dollars.

MMA and boxing also inspire millions of young people all over the world to participate in local gyms and leagues.

So we also need to consider the ancillary effects of bringing professional boxing and mixed martial arts to Connecticut.

Real fights and professional-amateur competitions could be a boon to local gyms in our communities that give young people a real outlet for their energy and teach them physical discipline, fitness and the camaraderie that comes with the sport.

So in closing I ask you to vote yes on HB 6266–vote yes for our cities, vote yes for more economic development, and vote yes to make Connecticut a destination for truly great athletic competitions in our state.