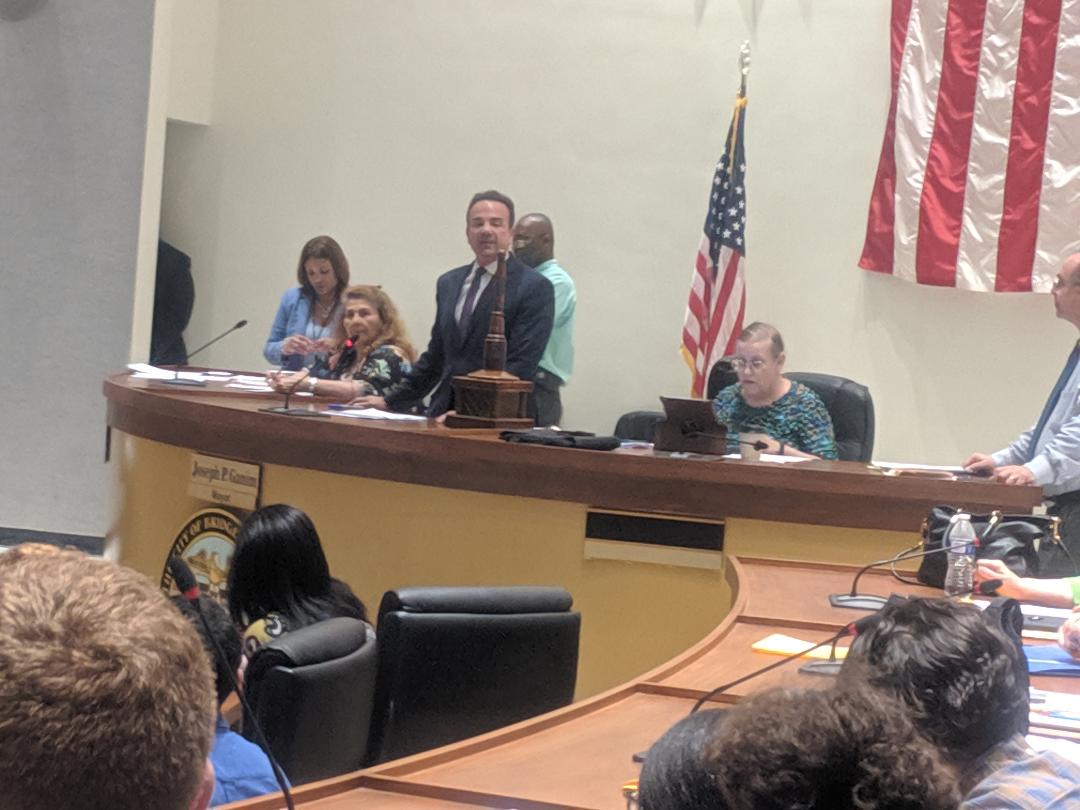 Declaring Monday night that the City Council made a "good budget even better" Mayor Joe Ganim did not veto changes made to his proposed spending plan for the budget year starting July 1. The council also set the mil rate at 53.99 down slightly from 54.37 which represents roughly a $50-$75 tax cut to the average homeowner. The tax rate on motor vehicles was also approved at the state-capped 45 mils.
The council, via alterations made to Ganim's proposed plan by the Budget & Appropriations Committee, had shifted roughly $1.3 million of the mayor's tax cut for additional school spending.
Ganim had considered a veto of the council's budget to provide greater tax relief but decided in an election year, he'd rather be on the campaign trail extolling a slight tax cut while adding more dollars to education, albeit not nearly what school spending advocates would like in the face of millions of Board of Education cuts made just to keep pace with annual labor agreement costs.
In response to the news Board of Education Chair John Weldon wrote the following on Facebook:
Ironically, as this meeting was happening, the BOE was upstairs, just 100 ft. away, eliminating front line Asst. Principal positions, and increasing the school bus walking distance to 1.5 miles for middle schoolers, among other things, to close the $10.2M deficit the Council's budget left the school system in (the BOE needed $11.5M, but the Council only allocated $1.3M). It could have been avoided, but these cuts are what now have to happen in order to fund the election year mil rate reduction gimmick. More devastating cuts remain to be made over the coming weeks.
The council Monday night also approved the police union contract that calls for the following wage increases retroactive to July 2016:
Year 1: 1 percent
Year 2: 2.5 percent
Year 3: 2 percent
Year 4: 2 percent
Year 5: 2 percent
Members of the Bridgeport Police Union Local 1159 had been without a contract since July 2016. Most union members supported Ganim's 2015 comeback for mayor. Contract negotiations, however, caused a schism. The parties were heading to an arbitration decision before settling on terms. The contract ends June 30, 2021.
Other measures of the contract include reducing callback pay from eight hours to a four-hour minimum, something the city says will reduce costs associated with overtime as well as expediting the disciplinary process for officers on paid administrative status.
Public safety was a central issue to Ganim's 2015 return when he edged incumbent Bill Finch in a primary on his way to a convincing general election victory. Ganim, on the campaign trail, pledged to hire 100 new officers, something he has accomplished in his return, but the pace of department retirements pose challenges to maintain police staffing levels above 400, a key baseline for uniform deployment, something union chief Chuck Paris noted to the council Monday night.
Council members Karen Jackson, Kyle Langan, Christina Smith and Maria Zambrano Viggiano voted against the police contract.
The item passed with 13 in favor and 4 against with three absent. The following council members were absent: Pete Spain, Alfredo Castillo and Eneida Martinez. Some council members had asserted the police contract was too generous at the risk of school spending.
Councilor Denese Taylor-Moye, co-chair of the budget committee, denounced that notion Monday night declaring "You can't take from one to feed the other."
Ganim's two announced challengers State Senator Marilyn Moore and State Representative Charlie Stallworth have been occupied by the current state legislative session that ends in two weeks. A special session could follow if the General Assembly does not complete all of its work, cutting deeper into the municipal election cycle.