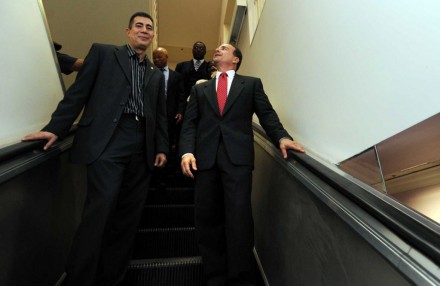 Sometimes little things mean a lot, like turning on the escalators in the Margaret Morton Government Center that houses the mayor's office Joe Ganim returned to Tuesday morning.

From CT Post scribe Brian Lockhart
It may have been one of the best decisions Ganim could have made to endear himself to city staff.

"You don't know," gushed Jeanette Nadrizny, a purchasing agent, when the returned mayor stopped by that department. "What a welcome!"

"It's very symbolic," said another municipal employee who did not wish to be identified. "It's all people are talking about today. 'The escalators are back on!'"

In a way the escalators are also emblematic of Finch's downfall at the hands of urban voters who simply did not share the ex-mayor's passions. Finch, among other accomplishments, touted his "green" record on the campaign trail. Ganim promised to hold the line on if not cut taxes and to make the streets safer.
Full story here.