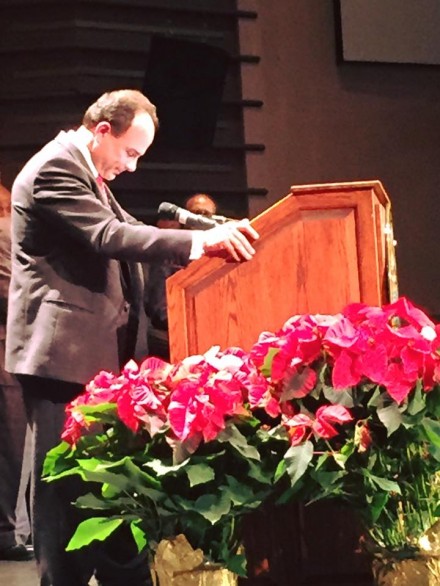 Asserting Tuesday night before roughly 1000 supporters, elected officials and family in the Klein Memorial Auditorium that he's "learned much from my life's many experiences … Lessons about how a person can fall–and get back up–of how one faces adversity after making mistakes," Joe Ganim officially returned as mayor to Connecticut's largest city that he governed for more than 11 years, receiving the oath of office from his father George Ganim.

In an uplifting night filled with song selections from the Lighthouse Program Gospel Choir and Cathedral of the Holy Spirit Mass Choir, Ganim emphasized he will govern in an open, accountable and accessible manner with the public.
Superior Court Judge Eddie Rodriguez served as master of ceremonies with a toastmaster's touch declaring to paraphrase the late Yogi Berra "this is like déjà vu all over again." Rodriguez served as MC the last time Ganim received the oath of office for mayor in 1999. Rodriguez also sparked the crowd by urging Governor Dan Malloy, who did not attend, to embrace Ganim in the governor's second-chance program. Rodriguez cited Malloy's recent Thanksgiving message that highlighted a second chance society.
Frank Caggiano, bishop of the Diocese of Bridgeport representing Catholics in Fairfield County, delivered an opening prayer.
Ganim's three children, Krista, Joseph and Robert, led the crowd in the pledge of allegiance.
Lieutenant Governor Nancy Wyman attended, sitting nearby Democratic Town Chair Mario Testa on the Broadway-style Klein stage with other elected officials and dignitaries. Testa sat next to Bishop Caggiano.
The Klein, with a capacity of 1,400, was jammed on the lower level with some sitting in the balcony.
The following elected officials received the oath of office
City Sheriffs: Michael Garrett, Wesley Matthews, Joe McLaine, Michael Moretti, Wilfred Murphy, Stephen Nelson
Board of Education: Dennis Bradley, Kevin McSpirit, Maria Pereira, Ben Walker
Town Clerk Charles "Don" Clemons
City Clerk Lydia Martinez
City Council, 130th District Kathryn Bukovsky, Scott Burns; 131 Jack Banta, Denese Taylor-Moye; 132 Evette Brantley, John Olson; 133 Tom McCarthy, Jeanette Heron; 134 Michelle Lyons, AnyMarie Vizzo-Paniccia; 135 Richard Salters, Mary-McBride-Lee; 136 Jose Caco, Alfredo Castillo; 137 Milta Feliciano, Aidee Nieves; 138 Nessah Smith, Anthony Paoletto; 139 James Holloway, Eneida Martinez.
Ganim was introduced by Judge Rodriguez who delivered an impassioned plea on behalf of a second-chance society, urging Governor Dan Malloy who's created distance from Ganim to embrace Ganim just as the governor has others who seek a fresh start. Rodriguez urged Ganim to be "the bright shining light of redemption."
Ganim received the oath from his father at 7:42 pm to a standing ovation. Ganim's prepared remarks:
I want to first give thanks to God for blessing me and all of us with this day.

Congratulations to all my fellow elected officials on this historic day.–A job well done.

I want to thank every resident of Bridgeport for giving me this historic opportunity to once again lead our City.

And I pledge to work hard every day to fulfill our hope for a better Bridgeport, a Bridgeport that works for everyone.

I am so very blessed by an amazing family and a wide circle of friends who believe in our mission of rebuilding this City.

Your help and support has been–and will continue to be instrumental in giving me the strength to succeed. Thank you again.

I understand that this is a new beginning.

I have learned much from my life's many experiences–Lessons about how a person can fall–and get back up–of how one faces adversity after making mistakes.

I have learned that in America—and particularly in this great city–if you are true to a cause, work hard, and are not afraid to ask for a second chance, you can find and experience that moment of redemption.

I take these as lessons learned, and as your mayor I will apply them wisely.

T.S. Eliot wrote–"… last year's words belong to last year's language–and next year's words await another voice." WE ARE THAT VOICE.

This new administration-–YOUR ADMINISTRATION–will work hard to always treat people with RESPECT while showing HUMILITY as we work to improve the quality of life for all of our residents.

Today-–for us and all of Bridgeport, THE PAST IS DONE AND OUR FUTURE HAS NOW BEGUN.

One of the most important first steps for me as your Mayor will be to make city hall a more welcoming place and ensure Bridgeport's city government reflects the diverse composition of our great city.

We will appoint talented managers to champion reforms so government works better for everyone …

I will  also be a hands-on Mayor, accessible to all residents and city employees. That is, a mayor who will work day and night to brighten our future by improving the quality of life for ALL of US.

Bridgeport needs to be the city of good jobs and good wages.

–Bridgeport needs to be the city where every child can attain a 21st century education.

–Bridgeport needs to be the place to develop and expand small businesses.

–Bridgeport needs to be a safe city and a place where taxes are not burdening our residents.

Our new Administration will be effective and accountable from day one. With that, I am creating an Office of Public Integrity and I will present this idea to the Council within my first hundred days.

With that commitment, we will work to rebuild the connection between government and the people, a connection that has been missing for too long.

–We will publicize budget documents and reports and obtain the input of Bridgeport's citizens.

–We will conduct a top to bottom review of city spending to determine how we can CUT costs. So we can use all of our efforts to fight against Bridgeport's high property taxes.

CRIME

From day one, I will work with our police department to REBUILD morale and PUT community police officers back in our neighborhoods.

EDUCATION

I will work with the Board of Education, teachers, administrators, and parents to make sure all our children get the quality education they deserve.

JOBS

I know how to create jobs–REAL JOBS–and growth for our city–as we did when we built the Ballpark at Harbor Yard, the Arena, Housatonic Community College, the Bridgeport Transportation Center–and set in place the plan for the development of Steelpointe.

Today is the day we begin to bring about the positive results that everyone desires. Together we will realize the promise of Connecticut's largest city.