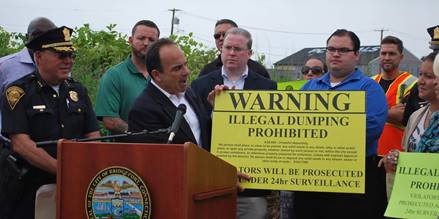 From city Communications Director Av Harris:
Mayor Joe Ganim joined several city council members and the Bridgeport Police Department (Friday) to declare war on blight and illegal dumping, reminding violators that any vehicles involved in illegal dumping can be seized, perpetrators face steep fines and criminal charges.
In addition, Mayor Ganim has proposed a new city ordinance that would fine owners of consistently blighted properties in Bridgeport $100 for every day their property is not cleaned up. Mayor Ganim made the announcement on Suggetts Lane in the East End of Bridgeport, an area that is one of several hot spots for illegal dumping in the city.

"Blight and illegal dumping are eyesores that can lower property values and deter investment in our city, but they are also costly and can lead to health hazards. Enough is enough!" said Mayor Ganim. "We are declaring war on blight and illegal dumping. That means zero tolerance for anyone who disrespects the residents of this city and our neighborhoods by just leaving their trash in an abandoned lot or letting their house go to waste. We will find those responsible and bring criminal charges against them. Just dumping trash and leaving a blighted property in Bridgeport are going to cost you. We are also asking for the public's help in finding the bad actors here so we can clean up our city, and we are now offering a reward for anyone who gives us a tip that leads to an arrest for blight or illegal dumping."

Mayor Ganim is reporting that so far in 2016, the city has issued more than $111,000 in fines for blighted properties and illegal dumping. Crews from the Bridgeport Department of Public Facilities have cleaned up more than 1,110 illegal dumping sites in 2016, removing more than nearly 300 tons of debris, including nearly 200 discarded. This is at a cost of nearly $100,000 to Bridgeport taxpayers just to remove unlawfully dumped trash. Mayor Ganim and the Bridgeport police are offering a $200 reward for anyone who contributes evidence that leads to an arrest for a chronically blighted property or illegal dumping. The city is providing the following numbers to report such evidence: 203-576-8023 or 203-576-7976 and evidence can come in many forms, including a picture taken on a mobile phone and sent via text message.

In addition, Mayor Ganim has proposed a new ordinance to the Bridgeport city council that would increase penalties for blighted properties, including a fine of $100 for each day the property sits vacant and abandoned, not cleaned up. The ordinance, if approved by the city council, would empower the city to seek liens against property owners which would prevent any transfer of title or deed until outstanding fines for blight are paid off to the city treasury.