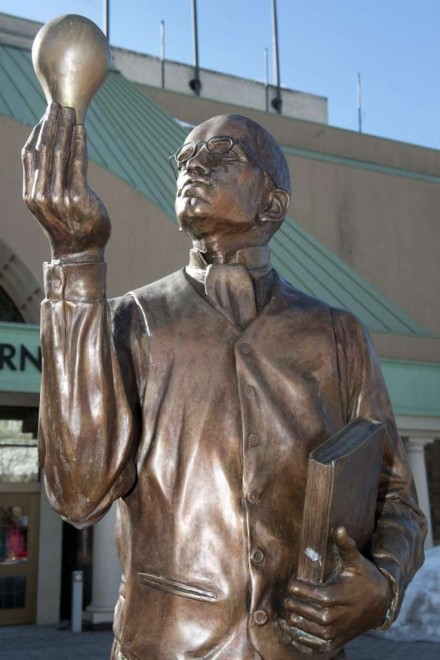 Following public pressure, Mayor Joe Ganim on Thursday announced that the statue of electrical pioneer Lewis Latimer, created under predecessor Bill Finch, will remain in front of the Margaret Morton Government Center. CT Post scribe Brian Lockhart has more here

From the mayor's office:
Mayor Joe Ganim today issued the following statement in opposition to moving or disrupting the statue depicting legendary African-American engineer and inventor Lewis Latimer. The Latimer statue has been standing in prominent display in front of Bridgeport's Margaret Morton Government Center building at 999 Broad Street since it was erected in 2013.

"Lewis Latimer is a significant inventor in world history, and he is a proud symbol of everything Bridgeport strives to be: hard working, creative, brilliant, and a light unto the world," said Mayor Ganim.  "Indoor lighting in every building on planet earth derived from Latimer's groundbreaking work and discoveries–on his own and in partnership with Thomas Edison. Lewis Latimer is one of Bridgeport's most prominent global citizens and we are extremely proud to honor him in front of our government center. I have shared my opinion with members of the Bridgeport City Council and members of the South End Neighborhood Revitalization Zone that the statue of Lewis Latimer is of significant historic value to our entire community in Bridgeport. It should remain standing proudly in front of the Margaret Morton building as an inspiration to all who see it and as a reminder of everything Bridgeport can be."

The statue of Lewis Howard Latimer was purchased by the previous Mayoral administration for $65,000 using grant funds earmarked for the South End Neighborhood Revitalization Zone (NRZ). These funds were meant for streetscape improvements. The late Lewis Howard Latimer was born in Massachusetts in 1848 and later moved to Whiting Street in the South End of Bridgeport in 1879 when he is believed to have invented an improved method for production of filaments in light bulbs.