Did your checkbook crow at the Red Rooster Thursday night? Deputy Chief Administrative Officer John Gomes hosted Mayor Joe Ganim's latest fundraiser for governor at Gomes' Red Rooster deli. See video above that appears on Ganim's campaign Facebook page.

Ganim is moving around the state, often with Democratic Town Chair Mario Testa at his side, trying to build support in an exploratory stage for governor while petitioning a federal court to allow his participation in the state's public financing program denied by the State Elections Enforcement Commission citing his 2003 conviction on federal corruption charges. Ganim is challenging the decision on constitutional grounds.
Ganim's fundraising strategy thus far is small dollar amounts on a leap of faith he wins his court case. Under the state's Citizens Election Program qualifying candidates that raise $250,000 in donations of $100 and less will receive a primary jackpot of more than one million dollars. It's about $6.5 million for the general election.
The video footage from the Red Rooster features Gomes addressing the crowd of city employees, city pols and business community members. Later Ganim declares, "Let's move this dynamic energy to the next level together."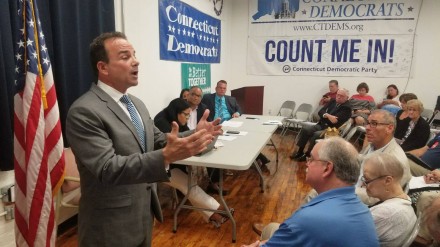 For Ganim, it's a challenging "next level."
The federal court decision is key if Ganim's going to compete financially with the field of Dems vying for the party nomination. And even if the court sides with Ganim there's no guarantee he'll qualify for the labor-intensive public dollars. The money will be parceled out by the state after the party convention in May 2018 and when candidates qualify for the ballot.
The other night Ganim addressed members of the Democratic State Central Committee, the regulars who conduct party business, elect a chair and spread the word to insiders about the viability of a candidate.