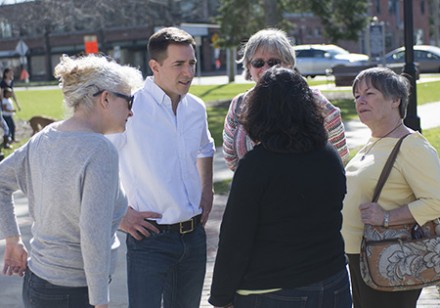 Bridgeport attorney Chris Mattei, a former federal prosecutor, enjoyed another mighty fundraising quarter once again cracking more than $100,000 in small donations raised that places him close to the financial threshold required to receive more than $1 million in public dollars for a 2018 Democratic primary for governor.

Mattei, in an exploratory stage, announced his committee raised $104,540 for the quarter ending September 30 to bring his overall total to $222,884. Gubernatorial candidates must raised $250,000 in donations of $100 and less to trigger the public financing jackpot. It's a laborious effort.
"In April, I said that Connecticut was in need of a new way forward," Mattei said in a statement. "I've spent the last five months traveling to communities throughout our state; listening to students, seniors, parents, small business owners, workers and many who feel shut out of our political process and our economy. It's clear to me that people are ready for positive, long-term change, and I'm honored that so many have joined us."
Mattei raised it without contributions from lobbyists. He adds "as someone who has spent a career taking on the corrosive influence of money in politics, I believe those who are registered to lobby our elected leaders should not be simultaneously funding the campaigns of those same officials."
Mattei is running as a corruption fighter unencumbered by Hartford insiders. His prosecution of John Rowland on federal campaign finance violations sent the former governor to the joint for a second time.
Campaign finance filings aren't due until next week, but some campaigns issue fundraising information prior to the mandatory postings with the State Elections Enforcement Commission.
Mayor Joe Ganim is expected to report more than $100,000 raised for the latest quarter, a major improvement from his last quarter filing. Ganim is also in the exploratory stage.
The Democratic side, like the Republican field, is wide open. In addition to Mattei and Ganim, Middletown Mayor Dan Drew and former state commission Jonathan Harris are among the Democratic field. Still, the big question, will Lieutenant Governor Nancy Wyman get in? If so, it changes the configuration of the race. If she stays out, barring the entrance of a major figure, it's anyone's game.
Ganim is raising money like he's a candidate for public dollars even though the SEEC has prohibited him from qualifying for the Citizens Election Program as a result of his 2003 conviction on public corruption. Ganim is challenging that in federal court. A hearing is scheduled next month. If the court does not side with Ganim he can raise money outside the Citizens Election Program through large-dollar donations. Exploratory candidates can receive a maximum $375 personal contribution.
Public dough will be parceled out following the respective party endorsement sessions next May.