Mayor Joe Ganim's appeal to delegates at the Democratic party convention on Saturday came up short of the 15 percent threshold necessary to place his name on the August primary ballot to challenge party-endorsed Ned Lamont for governor. This means Ganim's petitioning effort to make the ballot continues. Ganim needs more than 15,000 verified signatures from Connecticut Democrats for a ballot line, a process Ganim says will continue in earnest. He says the campaign has already amassed more than 10,000 signatures. The submission deadline is June 12.

In the initial round of votes at the Connecticut Convention Center in Hartford Ganim had 247 votes, backed by Bridgeport's 90-strong delegation, representing 13.12 percent. After vote switches the final tally was Ganim 244, about 13 percent to Lamont's 87 percent.
"Bridgeport, I'll be on your side every day," Lamont announced in accepting the party nod. "When we're united we win and Connecticut wins." Susan Bysiewicz was endorsed for lieutenant governor with 59 percent delegate support while late-entry insurgent union activist Eva Bermudez-Zimmerman received about 40 percent, plenty to forge a primary. Her support base came from activists who wanted a Latino or African American on the ticket.
State Rep. Charlie Stallworth pitched delegates as a candidate for lieutenant governor, but came up well short of the support necessary to make the ballot with just a one percent tally. Stallworth must now wage  a difficult signature campaign to make the  August primary ballot running with Guy Smith who bypassed the convention for a petition drive.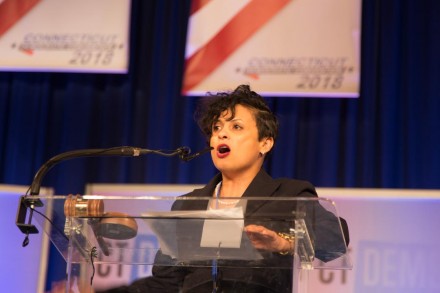 Ganim, in a rare move for a candidate but one that provided a platform, seconded his own nomination in an appeal to delegates in the Connecticut Convention Center. Bridgeport Health Director Maritza Bond placed Ganim's name into nomination issuing a passionate testimonial on behalf of her boss.
Ganim pressed a lot of delegate flesh in the convention hall with direct appeals to various town delegations.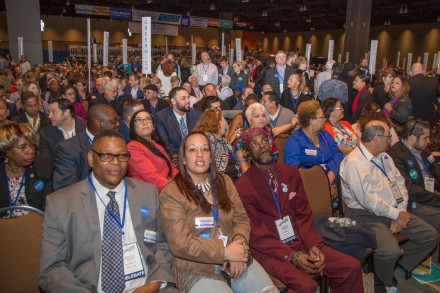 Ganim has launched a petition drive as Plan B with operatives fanned out across high-density housing areas in Bridgeport, New Haven, Hartford, Waterbury, New Britain and West Haven. He needs more than 15,000 verified signatures from Democratic voters. The petitions will be submitted to the respective local registrar offices for verification before forwarded to the Office of the Connecticut Secretary of State for certification.
If Ganim qualifies for a primary the next paramount question centers on money. Lamont, a wealthy Greenwich entrepreneur who exploded onto the state political scene in 2006 defeating U.S. Senator Joe Lieberman in a primary, but then losing the general election to Lieberman, is self-funding with the ability to spend millions. Ganim is raising money the old-fashioned way, relying on large-dollar donations because his 2003 felony conviction precludes him from participation in Connecticut's Citizens Election Program of publicly financed campaigns that ponies up $1.2 million for qualifying primary candidates.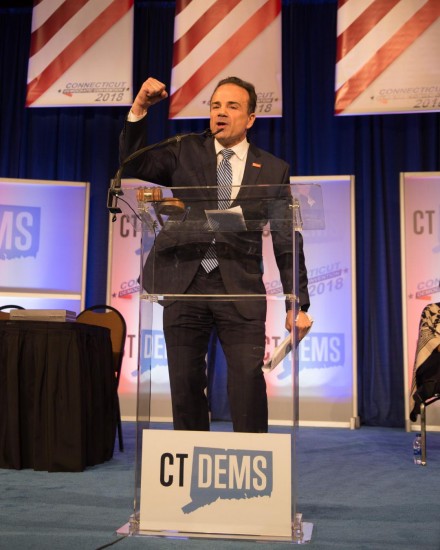 State party leaders, in an attempt to speed up the endorsement process for the six constitutional offices, had town chairs of each Connecticut community enter the results of  the respective delegation support into a computerized data base rather than the traditional roll call by each town vocally announcing the returns. This was the first time such a system was implemented. The cumulative tally was shown on two large convention screens.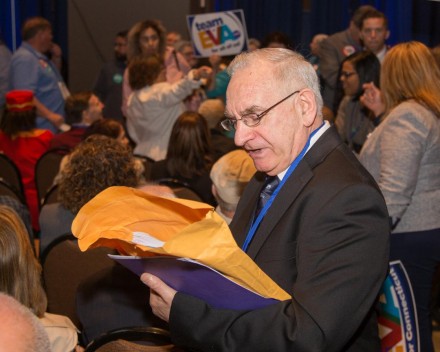 Convention organizers had several initial tabulation glitches to contend with in the format that required tally adjustments among roughly 2,000 delegates statewide.
For attorney general Stamford State Rep. William Tong won the endorsement. Bridgeport Attorney Chris Mattei and State Senator Paul Doyle qualified to primary.
Shawn Wooden, former president of the Hartford City Council, was endorsed for state treasurer. He faces a primary from Hartford lawyer Arunan Arulampalam and former Wall Street trader Dita Bhargava of Greenwich.
Connecticut Secretary of the State Denise Merrill and Comptroller Kevin Lembo were endorsed for another four-year term respectively.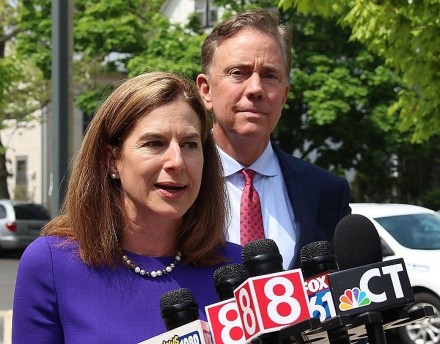 Lamont statement:
The Democratic State Convention ended in a decisive victory for Ned Lamont, who earned the nomination for Governor with support from 87 percent of delegates attending. Susan Bysiewicz earned the party nomination for Lieutenant Governor, receiving 59 percent of delegates.

"I believe in Connecticut. It is that simple," said Lamont. "The challenges we face are real, but if we all work together to build a movement one person at a time, I believe that our best days are ahead of us."

The Connecticut Democratic Party emerged united as Lamont earned overwhelming support and the party's nomination for Governor. Lamont said he is committed to hearing from residents firsthand about how to put Connecticut on a sustainable path, starting with an honestly balanced budget.

"Today the Democratic Party came together and supported a unified vision for our state. I am honored to have earned the party's endorsement for Governor and I am excited for the work ahead. We are going to knock on every door, visit every small town and big city and ask people to believe again," Lamont said. "We have a great group of Democrats. We have traveled the state and heard from community leaders about what their priorities are to move the state forward. What we've learned on the campaign trail and what this convention has shown is that as Democrats, we are united."

From working to ensure women earn equal pay for equal work, to giving the students the right to dream and respecting immigrants' rights, Norwalk City Councilor Eloisa Melendez in her nominating speech said Lamont will make the bold changes needed to move Connecticut forward.

"Ned believes in my future, he believes in our future," said Melendez. "Ned will work to make college more affordable and fight for our 'Dreamers.' Ned will work to close the wage gap because Latina women in Connecticut only make 47-cents to the white man's dollar. Ned will celebrate and respect immigrants, like my mother, so that they know they are welcome in Connecticut.

"I believe in Ned Lamont, because he believes in all of us. That's why I'm proud to have nominated Ned Lamont as the next Governor of Connecticut," said Melendez.

"Our party has always been one of opportunity. Together we are unbeatable," said Sean Connolly. "With Ned Lamont at the top of the ticket, I know no one will be left behind."

New Haven Mayor Toni Harp said Connecticut needs a Governor who is committed to lifting up all students, investing in our transportation infrastructure and fully supporting the state's cities so they can be the economic engines Connecticut needs to thrive.

"We need a Governor that we can depend on to fully fund our public schools. We need a Governor who will invest in our infrastructure. We need a Governor who will help us build our economy, so we can go forward. There is so much at stake in this election. The Republicans are coming for us. We need a strong ticket and a strong leader to face the rocky times ahead. I'm proud to be on Ned's team," said Harp.

"I know Ned Lamont, and I know his heart," said Harp. "Ned is asking us to believe in Connecticut. Not because it'll be easy, but because when we work together, when we unite, there is no one who can stop us."

Susan Bysiewicz showed considerable support despite only entering the race for Lieutenant Governor less than a week before the convention. Lamont and Bysiewicz announced that they would be teaming up on Tuesday, May 15, 2018.

"I'm so honored to have earned the endorsement of the Democratic Party for Lieutenant Governor. We all learned a lesson in 2016, the Democrats didn't come together, and we are paying dearly for that now. Tonight, we saw Democrats from all across Connecticut speak with one voice. They are ready for the campaign ahead, they are ready to stand up for Connecticut values, and they are ready for change. Ned and I are going to work hard in the coming months to make sure that happens," Bysiewicz said. "I look forward to engaging with voters on the important issues during the primary."