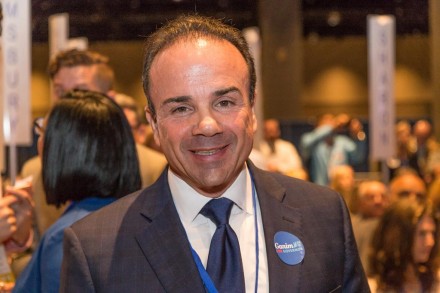 There's gonna be a royal wedding on Saturday in England. Meanwhile Mayor Joe Ganim's determined to be a royal pain in the ass to Ned Lamont who will be coronated by delegates for the Democratic gubernatorial endorsement at the Connecticut Convention Center in Hartford. Ganim's hoping to jawbone 15 percent delegate support on Saturday to force an August primary. He's also working plan b: a labor-intensive signature drive with a June 12 deadline.

From the Ganim campaign:
"England may have a royal wedding on Saturday, but Democratic voters deserve better than a royal coronation," said Ganim, referring to the ticket of Ned Lamont and Susan Bysiewicz. "Democratic delegates should support an open primary to give Democratic voters a choice as to which candidate has the best ideas to build a better Connecticut and which candidate can excite the Democratic base, particularly in our cities, to mobilize turnout in November," said Ganim.

Ganim, who has over 10,500 petition signatures of the 15,458 necessary to qualify for the ballot, said he intends to run in the August primary regardless whether he gets the 15% support needed from the delegates to automatically qualify for the primary.

"Party insiders have wired this convention for Ned Lamont, but that does a disservice to Democrats throughout this state. I believe the primary process will prove to Democratic voters that I am the candidate with the ideas and experience to best lead this state, can best connect with voters, and can best mobilize Democratic turnout in November," said Ganim.