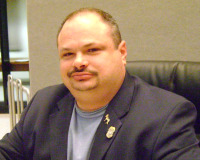 Maybe this will be the beginning of a good old-fashioned food fight on the City Council. The city's legislative body Monday night unanimously approved a city Food Policy Council modeled after similar measures in several other Connecticut cities educating citizens about healthy eating and food choices. The council's Ordinance Committee Chairman Rich Paoletto, who represents the city's Upper East Side, says the council will not become "food police" legislating food standards on city eateries.

Have you seen some of the things council members stuff in their mouths before meetings? Nothing like a Twinkie before roll call, cream-filled glazed donuts, cheese fries with ranch dressing (oh my), maybe a brown paper bag under a desk. Hide the whiskey bottles! Hold the Philistines, please. The council needs a few more Sapphire sippers.
Three city staffers and six volunteer mayoral appointees will comprise the nine-member food council.