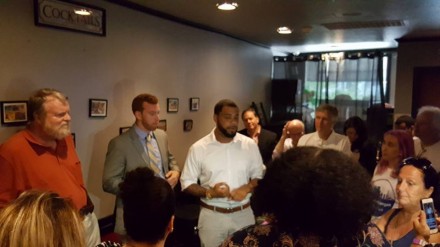 City Council races are gearing up across the city for expected Democratic primaries in September. Two young newcomers Kyle Langan and Marcus Brown had a fundraiser Tuesday night at the 19th Hole on Brooklawn Avenue in their quest to represent the West Side 132nd District. Incumbent councilman for the district John Olson is not seeking reelection. His council partner Evette Brantley is running with Democratic Town Committee member from the district Rolanda Smith.


The Democratic Town Committee is scheduled to meet July 24 at Testo's Restaurant to endorse candidates for City Council and citywide slots for Board of Education and city sheriff.
Meanwhile the revitalized Greater Bridgeport Young Democrats issued its first round of endorsements for this municipal cycle, backing Pete Spain for council in the 130th District and Langan in the 132nd. Dormant for a long time, the emergence in recent years of young activists has reenergized the group. What does this endorsement bring? Bodies, young bodies to make phone calls and knock on doors where a premium is placed on retail politics. GBYD will issue more endorsements upon receipt and review of its Google Form questionnaire.
"Pete and Kyle are great candidates and will serve their communities well on the city council. We are very proud to endorse them both," said Constance Vickers, president of the GBYD. "As a new group, we are excited about this process and will be continuing our endorsements throughout the rest of the summer."
"I'm humbled and grateful to be endorsed by the Greater Bridgeport Young Democrats," said Spain. "We the citizens are the future of this city and we–from all walks of life and of all ages–must come together for real progress. We must have the courage to come out of our comfort zones to repudiate the substandard status quo and to insist on credible, open, accountable, and competent representatives."
"I am very humbled and honored to have received the endorsement of the Greater Bridgeport Young Democrats as I run for City Council for the 132nd District," said Langan. "I really appreciate the community and political power of organizations like GBYD in Bridgeport as groups like this are vital to bringing change to our city. I look forward to working on building more community power and organizing in our city now and in the future."