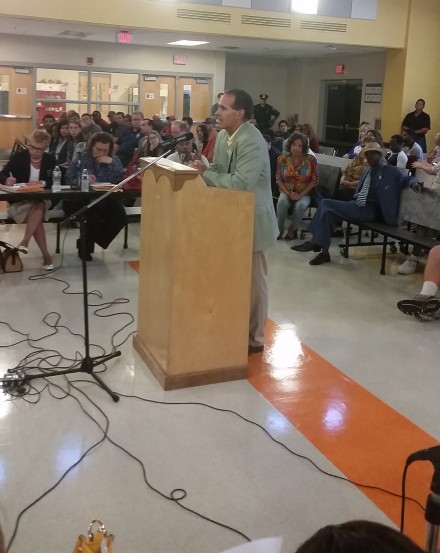 Union jobs, open shop jobs, hey, any kind of jobs. That was the message that dominated the City Council public hearing Tuesday night for New York-based Exact Capitol's $410 million proposal to resurrect two shuttered Downtown theaters as well as building more than 800 housing units occupying nearby streets including two residential towers to become the tallest buildings in the central business district. Dozens of speakers addressed the City Council among the more than 100 in attendance at Geraldine Johnson School, the majority union members and students from the University of Bridgeport, transported by shuttle, some of whom are students of Mayor Joe Ganim's evening lectures on government.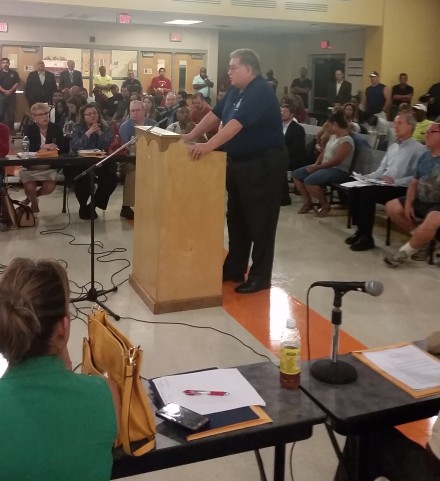 For many older city residents the Poli and Majestic theaters represent the city's heyday as a magnet for New York's theater and pageantry, but the night was less nostalgic and more about jobs, especially Bridgeport jobs for Bridgeport people.
Prior to the formal public hearing Glenn Marshall, an official of the New England Council of Carpenters Local 2010, backed by dozens of his members, addressed the council during the public speaking portion of the regular meeting with an urge for the council to adopt a Project Labor Agreement similar to other city projects such as Bass Prop Shops on the East Side.
"We ask you to make sure there's a local hiring effort because if you don't … chances are it won't" get done, said Marshall.
Ganim kicked off the formal public hearing in Geraldine Johnson School auditorium (City Council Chambers is undergoing renovations) noting the project will "dramatically transform Downtown to create opportunities." He also lent his support to a Project Labor Agreement "that's good public policy … it's local hiring, minority hiring and second-chance hiring." Ganim, exploring a run for governor, will need organized labor support for his candidacy to gain traction. Project Labor Agreements guarantee union jobs at prevailing wages and benefits. It's unclear yet if Exact Capital will embrace a PLA.
Former State Senator Ernie Newton, seeking his old council seat in the East End, urged a formula for union and nonunion (many constituents aren't in a union) but most especially minorities.
"If you don't put teeth into something you leave it up to them (the developer) to do nothing," declared Newton.
Republican school board campaigner and 2015 petitioning candidate for mayor Chris Taylor made two specific points: no tax breaks for the developer and a donation from the developer to Harding High School sports teams.
James Logan, pastor of Messiah Baptist Church, has a particular interest in the development, his church on Congress Street abuts the back side of the vacant theaters. He asked for the church to have a seat at the table to address development logistics such as parking.
Peter Carroll, president of the Fairfield County Building Trades, backed by dozens of his members, echoed a Project Labor Agreement, emphasizing his organization has met "every single hiring goal" with money that's put back into the community.
Jordan Mathis, a union apprentice who attended Bullard Havens on the East Side, said she worked on behalf of Project Labor Agreements at Bass Pro Shops and Black Rock School. "It's a family," she said.
Sitting quietly, but notably, were dozens of University of Bridgeport students shuttled to the public hearing. One student addressed the council, declaring he attended one of the mayor's classes. "This project will bring life to the city," he said. Ganim attended law school at the university. In his return as mayor, he also moonlights as a UB lecturer.
Government cynics who argue the Ganim administration is pushing for quick passage of the Land Development Agreement were also represented such as City Council candidate from Black Rock Pete Spain, Downtown merchant Kelvin Ayala and former City Councilman Bob Halstead, a supporter of historic preservation.
See Land Development contract, that does not include a Project Labor Agreement, submitted to the council last month here.
Exact Capital and affiliates propose to transform the closed Poli and Majestic theaters and 200-room Savoy Hotel into a $400 million multi-purpose performing arts center involving high-rise residential towers on several Downtown parcels including Main, Water, Golden Hill, Gold, Middle and Housatonic. The Planning and Zoning Commission has approved sale of the multiple parcels associated with the project.
Ganim wants the council to approve the development agreement at its next September meeting, but certainly before the end of the legislative session in November. Come December a new City Council will be in place, following September 12 Democratic primaries and the November general election. If the contract is not approved within the current configuration of council members, the process starts anew.