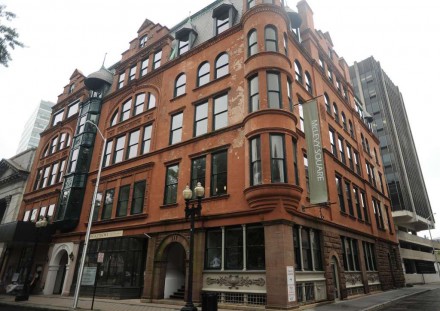 More than 30 units of housing, many overlooking McLevy Green, a German-style beer hall and comedy club will anchor the McLevy Square development Downtown. City and State officials participated in a ribbon cutting on Wednesday.

CT Post Business Editor Hugh Bailey has more:
Almost 10 years after the property changed hands, apartments in a State Street building overlooking McLevy Green in the heart of downtown Bridgeport are almost ready for occupancy.

The McLevy Square development by Darien-based Forstone Capital will bring new residents to the neighborhood and, just as importantly, give them something to do, with a comedy club and beer hall looking to begin operations in the coming months.

"I find it exciting as a downtown resident," Mayor Joe Ganim said at a ribbon-cutting ceremony Wednesday. "It's another step, but an important one, in the fabric of the city, but more importantly the downtown."

The $18 million project features 32 one- and two-bedroom units, each one distinct in layout or other details. Many overlook McLevy Green, with oversize windows allowing for plenty of natural light. Each unit includes a washer and dryer, air conditioning and dishwasher along with granite countertops.
Full story here.