The City Council's Budget & Appropriations Committee Monday at 6 p.m will consider a "Proposed resolution committing to reallocating certain funds from the Police Department to address the safety, security, educational and social services needs of Bridgeport residents." See full agenda.
This resolution is an offshoot of the so-called defunding of police, or redirecting resources from police to education and social services following national protests of law enforcement conduct.
The messaging of this across the land has been murky. What does defunding actually mean? Republicans used "defunding of police" as a cudgel to club opponents in the November election, one of the reasons GOP candidates picked up seats in the House of Representatives, despite Joe Biden's victory over Donald Trump at the top of the ticket.
These resolutions floated by council members tend to be showy toothless tigers to appease public protests with no real force of action.
The budget cycle for the July 1, 2021 spending year begins in April and that could be the time the co-chairs of the budget committee Scott Burns and Ernie Newton try to refocus dollars in this effort.
The resolution below was first floated in the summer.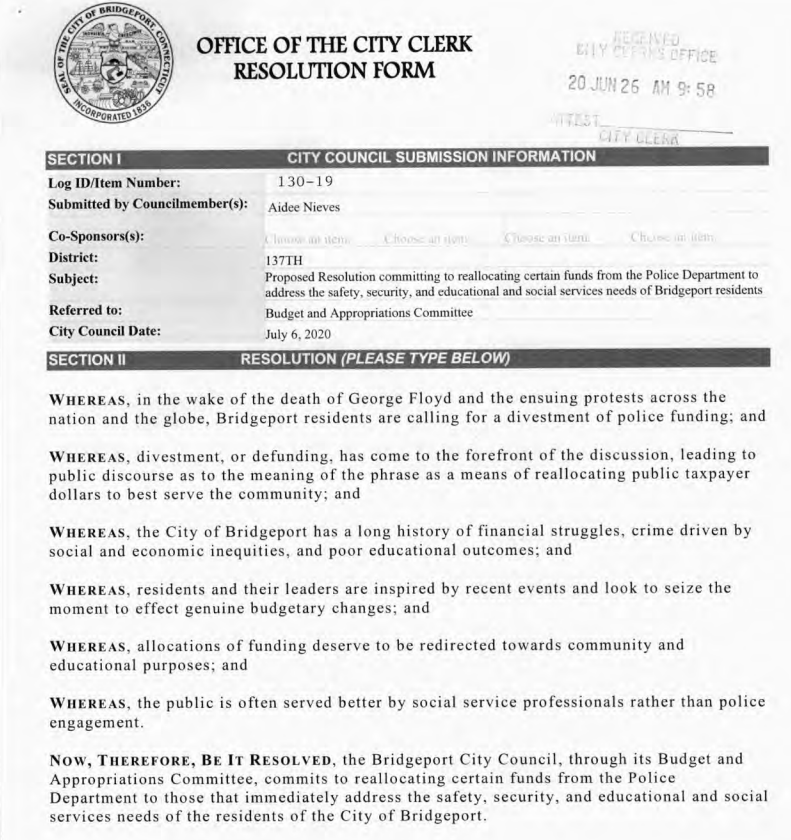 The public may listen to this meeting by calling the following conference line and then entering the conference code: Dial-in Number#: (929) 436-2866. Meeting ID#: 117 676 489