Update here. Viral video here. From Dan Tepfer, CT Post:
City police officers are once again under investigation, this time for allegedly beating a city teen after a car accident Friday night.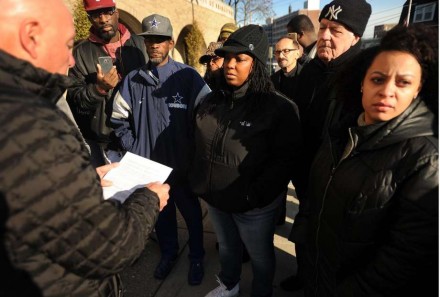 Police Chief Armando Perez said he has placed several officers on administrative status and ordered the city's Office of Internal Affairs to investigate the incident, which police said began when Aaron Kearney, 18, of Bridgeport reported a minor car accident he was involved in on Seaview Avenue near Boston Avenue just after 9 p.m. Friday. In a video of the incident that has been posted on the Internet, five police officers can be seen forcing Kearney face-first onto the hood of a car as Kearney's mother is screaming, "Don't hurt my son, don't hurt my son."

At one point a female officer appears to be hitting the side of Kearney's face with her hand as other officers hold Kearney's head against the car.
Full story here.
Statement from Police Chief AJ Perez:
"The Bridgeport Police Department is committed to public service and the safeguarding of the public's dignity and constitutionally afforded rights.

"The men and women of the Department work tirelessly day and night, often at great peril to themselves to make Bridgeport a better and safer community.

"When it comes to my attention that there are legitimate questions surrounding an officer's use of force, I place that officer on administrative status. This status removes the officer from contact with the public while the case is expeditiously and vigorously investigated by the Bridgeport Police Office of Internal Affairs. This measure is taken to protect both the officer and the public while the officer is afforded their due process.

"I have taken this step with the officers involved in the incident Friday night following a motor vehicle accident on Seaview Avenue, some of which was filmed on video and posted to social media.

"In the event that an officer is found to have knowingly and willfully violated policy by using excessive force in the performance of their duties, I will make every effort to see that officer separated from their employment with the Bridgeport Police Department and where applicable arrested and charged with a crime.

"As the Chief of Police, I have a zero-tolerance policy for abusing the citizens who we are tasked and sworn to protect and serve.

"It is unfortunately also common for Bridgeport Police officers to face situations that require the use of force, up to and including the use of deadly force. I continue to support my officers who meet the standards of reasonableness in these situations when such a use of force is justified."
Statement from Greater Bridgeport NAACP:
George Mintz, President of the local NAACP has urged full fact finding by all investigators in this situation. He then calls for a timely release of that information by the Department. For over a year the NAACP and other community members have pursued a monthly scheduled meeting with Chief Armando Perez to encourage better understanding of Department policy and training, including the extent of current "community policing" that would deal with accusations of "excessive force." The meetings on occasion have been canceled and not rescheduled as recently as October and November.