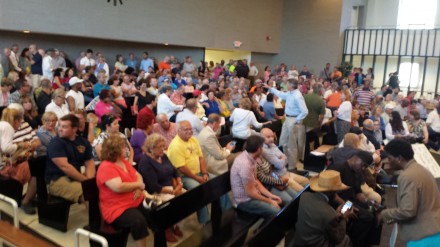 Update, includes video: More than 400 vexed taxpayers, most from the higher assessed Black Rock neighborhood, vented on Mayor Joe Ganim in a jammed City Council chambers Tuesday night about their tax bills in a revaluation year. And he let them spew in a noisy night punctuated by booing, hissing and chanting and calls for an independent financial control board. By night's end order was restored. But it did not start out that way among a crowd that did not show up to unload on the City Council during the budget deliberation process in the spring. Homeowners said they were ambushed by recently arrived tax bills that reflected tax hikes of $1,000 and more.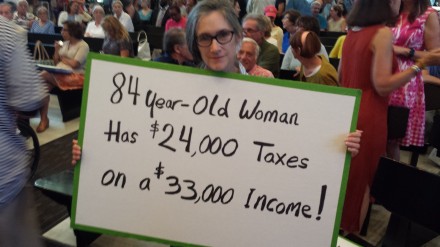 Ganim and his financial officials say about two-thirds of homeowners received flat or no tax increase as a result of the revaluation of taxable property that commenced July 1. They also contend they inherited a $20 million deficit from the Finch administration. That was no salve for higher assessed Black Rock and other neighborhood homeowners as well as businesses that took the brunt of the reval hit with a major decline in the city's grand list that finances city services.
At 6:30 p.m. it was an angry crowd ready to pounce during the public speaking portion of the council meeting with rules that set aside total speaking of 30 minutes at five minutes a speaker. Ganim heard them all out after the council conducted its own business.
Citizen fiscal watchdog John Marshall Lee, a regular speaker at council sessions, finally had some backup from fellow taxpayers. He asked City Council members to suspend the rules to allow more than six speakers to address the council.
Lee talked about the outrage of a unanimous vote of the City Council to approve the budget that led to a mil rate jump from about 42 to 54.
"Right now it is your "boots" on the necks of many property owners, especially those elderly long-term residents who scrape by on fixed incomes," Lee declared. "Without proper representation by you, they are seeing their property values decline and their purses empty. Shame on you."
Lee, often a lonely voice to an empty council chambers, received a standing ovation.
The noisy crowd began chanting "Where's Joe?"
At 6:50 p.m. Ganim walked into council chambers to boos.
Former U.S. Comptroller General David Walker who helped to rally the crowd, declared "if we had the right to recall elected officials in Connecticut, there is little question that Mayor Ganim would be recalled, as well as some City Council members." As Walker has often written in the comments section of OIB he reiterated his call for Ganim and the council to prevail upon the state to appoint an independent financial control board "to help create a better future for the city and its residents."
Black Rocker Jim Fox called on his City Council representatives Scott Burns and Katie Bukovsky to resign for "costing them a hell of a lot of money." He called on Black Rock to secede from the city of Bridgeport.
At 7:15 City Council President Tom McCarthy ended the public speaking portion. The council took a break and resumed at 7:30 to a number of hoots and hollers as the regular business of the council chaired by Ganim moved forward.
Intermittently, the crowd hooted, shouted and chanted.
"Joe, have some balls to talk to the people who elected you," shouted a man to cheers.
Ganim moved on with city business that included a key agenda item regarding approval to accept $5 million in federal Community Development Block Grant money that is dispersed to needy organizations in the city. The council was on a deadline for approval or risked forfeiting the money.
At times it was hard to hear the motions made by council members among the venting crowd.
Five uniformed police officers were at the ready in case the meeting got out of hand.
At 8 p.m. at the end of the council session Ganim offered to stay to hear additional public speakers. About half of the 20-member legislative body stayed to hear the speakers. The others left.
Alison Boteler of Black Rock, held a sign in the front row: "84-year-old woman has $24,000 taxes on a $33,000 income!" Boteler stepped up to the lectern and called her mother's situation "elder abuse" by taxation. She called the tax situation a "crisis."
One speaker talked about city employees "making a killing" on overtime and going back to their suburban towns.
Kathleen Pierce Blagys "beseeched" the council to revote on the budget.
State Senator Marilyn Moore, sitting among the crowd, also addressed Ganim. She chastised the council members who left and thanked the council members who stayed to hear the public. She said they cannot turn their backs on taxpayers. Moore and City Council President Tom McCarthy will face off in an August 9 primary.
Another speaker complained about council members receiving $9K stipends.
Black Rocker Alex Torres, son of three-time mayoral candidate Rick Torres, said he makes about $50,000 a year as a teacher at Central High School. "I'm a good teacher and I'll leave because I'll have to" because of the taxes.
One speaker came to Ganim's defense, city employee Maria Pires who proclaimed "people want miracles." She blamed past administrations for the current financial mess. "He can only do so much, give him time."
A number of speakers recalled Ganim's first tenure as mayor when he kept taxes down. Ganim raised taxes his first year as mayor after he was elected in November of 1991, albeit not the current percentage financial hit in the tax bills some taxpayers received, and did not raise them after that before he was forced from office in 2003 following his federal conviction on corruption charges. He made a historic comeback defeating incumbent Bill Finch in a September 2015 Democratic primary on his way to a general election win. Ganim had not experienced an angry public crowd like the one Tuesday night during JG1.
Black Rocker Pete Spain said in light of the budget "how are you going stop businesses from leaving Bridgeport?" He also urged an independent financial control board.
Former Board of Education member Kate Rivera from the South End said it was "demoralizing and exhausting being a Bridgeport taxpayer … fighting for everything, fighting for services." A part-time library, worker she declared Bridgeport homeowners are shelling out more than what Detroit taxpayers paid at the time the city filed for bankruptcy protection.
For about 90 minutes, Ganim patiently listened to everyone who wanted to speak including those with unflattering comments. "This is your night to talk, to be heard," he said. "It's your time." He invited members of the crowd to talk privately with him after the speaking portion.
Council members Aidee Nieves, Anthony Paoletto, Nessah Smith, Richard Salter, Denese Taylor-Moye, Scott Burns, Kate Bukovsky, Evette Brantley, Tom McCarthy, Jeanette Herron and Alfredo Castillo stayed for the duration.