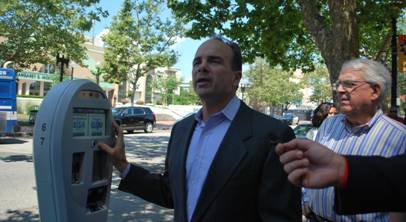 A day after overtaxed citizens' anger meter blew out eardrums in City Council Chambers, Mayor Joe Ganim greeted a much more friendly meter that will modernize archaic parking Downtown.


Communications Director Av Harris has more on this:
Mayor Joe Ganim today joined business leaders to introduce new, state of the art parking meters for downtown Bridgeport that will greatly improve convenience of consumers and residents of the city center. The new 'Smart' parking meters technology includes a computerized screen that provides instruction in several languages and accepts traditional coin payments, as well as credit/debit card payments. The new parking meters also feature downloadable apps that allow the user to pay for parking via their mobile phone or tablet device. Using these apps, someone parking their vehicle in downtown Bridgeport could set up an alert on their smart phone for when time on the meter is running low, and more parking could be purchased using the phone.

"This is a huge step forward for parking in downtown Bridgeport that is frankly long overdue," said Mayor Ganim. Through introducing this new technology into our city, we are going to dramatically improve the customer experience for anybody doing business in downtown Bridgeport, and anyone that lives here. No more will people parking cars in our city need to worry about if they brought change with them that day, or run out to fill the meter. We are also hiring line marking contractors at https://carparkpaint.uk to refresh markings to make sure our car park keeps running smoothly. This will make a major positive impact on the quality of life and I am so happy to introduce this new technology.

Paul Timpanelli, President of the Bridgeport Regional Business Council, said, "We have been dealing with the problem of parking in downtown Bridgeport for almost thirty years. The business community is very proud and pleased that Mayor Ganim and his administration are finding a creative, 21st century solution to this problem. This is a majestic step forward for Bridgeport that will make it easier for customers and residents to find parking downtown and that will help businesses grow their customer base and may even lead to more investment in this crucial part of the city."

Michael Moore, President and Chief Executive Officer of Bridgeport's Downtown Special Services District, said "These new parking meters will help improve convenience and the parking experience in downtown Bridgeport. We will soon be adding hundreds of new housing units to this part of the city, and these new meters will have a positive impact on the new residents of downtown as well. We are grateful for Mayor Ganim's leadership in making this new technology a reality."

A showcase installation of three new parking meters have started operating in downtown Bridgeport on Broad Street between Bank and State Streets at no cost to the city. The meters have been installed by the company Municipal Parking Services, Inc. and the contract to manage the new parking meters has been awarded to LAZ parking. Bridgeport Deputy Chief Administrative Officer Gina Malheiro, attorney Ronald Pacacha of the City Attorney's Office, and mayoral aide Thomas Gaudett are responsible for managing Bridgeport's conversion to new parking meter technology.

The city is still in negotiations with the contractor over the exact details of the financial arrangements for collecting and distributing revenue from the parking meters, with a likely outcome being free installation of more parking meters, with Municipal Parking Services earning revenue on parking fees collected above the projected baseline level. These parking meters have been installed and are successfully operating in cities such as Boston, MA, Hartford, CT, Poughkeepsie, NY and a number of other municipalities throughout the country.