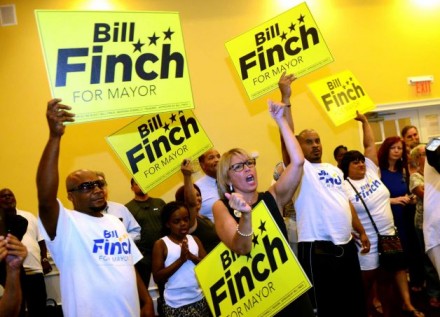 Former Mayor Joe Ganim hoped for a winning strategy that landed him 45 votes at the Democratic Town Committee endorsement with a tie broken by Town Chairman Mario Testa. Ganim came up four votes short to Mayor Bill Finch who was endorsed for a third four-year term at Testo's Restaurant by a tally of 49-41. The ultimate battle comes in September. Ganim and other mayoral challengers will try to petition their way onto the ballot for a September 16 primary. The endorsement provides Finch an automatic top-line ballot spot.

Mary-Jane Foster, Howard Gardner and Charlie Coviello are also in the race. They will need roughly 1900 certified signatures of Democratic voters to make the primary ballot. They'll have three weeks to make that happen.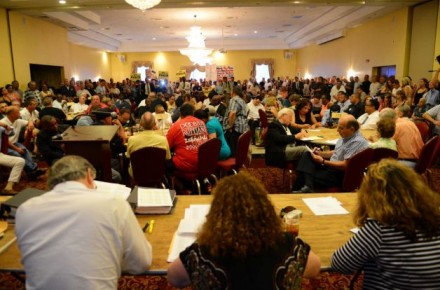 The mayoral endorsement was a noisy affair with hundreds in attendance in addition to the 90-member town committee. At times it was difficult to hear the roll call votes for the endorsement with shouts from the audience.
Statement from Finch:
"As the father of four kids, and as mayor, I remain focused on making Bridgeport a place where our kids and grandkids will choose to live, work, and raise their families, too.

"We still have work to do, but our vision Bridgeport's future is already taking shape–thousands of jobs coming to Steelpointe Harbor, tens of thousands of people visiting Pleasure Beach, hundreds of apartments and jobs coming to downtown, and hundreds of future jobs coming to East Bridgeport with the building of a second train station.

"Bridgeporters have a clear choice in this election–we can either continue down the path of strong leadership, making smart investments in the future that result in more jobs, OR, we can go back to the failed policies of greed, corruption, and lies that held our city back for too long.

"We're confident that Bridgeporters are seeing the progress and will draw the same conclusion in September and November. Together, we'll continue building a Bridgeport that works for everyone."
Ganim told the Connecticut Post, "This campaign was always predicated on taking it to the people of Bridgeport. It was not one that was going to be decided by three or four people at a convention."
The majority of Finch's support came from the 130, 131, 132, 133, 134 and 136 Districts; Ganim's support from the 135, 137, 138 and 139 Districts.
By 6 pm Testo's Restaurant ballroom was jammed with politicians and members of the public filing in for Democratic endorsement session for mayor and other municipal offices. All public seating occupied. Competing Joe Ganim and Bill Finch chants from supporters were ear-splitting at times. Ganim and Finch entered the room at 6:25 pm.
At 7 pm Town Committee member Tony Lancia placed Finch's name into nomination saying he's a leader who will continue the momentum for another four years. It was met with cheers and jeers and seconded by City Councilman Mike Marella and former city councilor John Olson who said Ganim should not be forgiven for misdeeds.
State Rep. Charlie Stallworth placed Ganim's name into nomination. It was seconded by former State Rep. Americo Santiago who said he was forced out of retirement to support Ganim. District Leader Steve Nelson said "I pray that we are all here for the right reasons … to improve the city of Bridgeport." He emphasized need for second chances. "I'm tired for taxes going up." East End District Leader Ralph Ford said things are not better for his neighborhood under Finch.
City Councilwoman Lydia Martinez was endorsed for city clerk, former State Rep. Don Clemons for town clerk. Kadisha Coates, Hernan Illingworth and Faith Villegas were endorsed for school board.
Ganim will run with a slate that includes incumbent Town Clerk Alma Maya, incumbent City Clerk Fleeta Hudson and school board candidates Maria Pereira, Dennis Bradley and Ben Walker.
City Republicans also conducted an endorsement session for mayor, tapping City Councilman Enrique Torres for a third time. He challenged Finch four years ago in the general election and John Fabrizi in 2003.
Democratic Town committee members
DISTRICT 130
Danny Roach, Joann Manzo, Michael Meehan, Tom Mulligan, Eric Amado, Joy Cline, Melissa Henton, John McCarthy, Anne Larcheveque.
DISTRICT 131
Mitch Robles, Nereyda Robles, Americo Santiago, Jose Negron, Jack Banta, Denese Taylor-Moye, Mary Bruce, Glen Pettway, Paul Bouchard.
DISTRICT 132
Mike Freddino, Tony Lancia, Carol Cocco, John Olson, Lisa Parziale, Joan Thornton, Elaine Pivirotto, Reggie Walker, Evette Brantley.
DISTRICT 133
Tom McCarthy, Vincent DiPalma, Abel Chaparro, Howard Austin, Joseph Hatrick, Albertina Baptista, Joseph Moura, Jeanette Herron, Peretz Robinson.
DISTRICT 134
Dennis Scinto, Matty Cuminotto, Johann Dorgan, John Fabrizi, Peter Minaya, Patricia Nolan, Tom Lyons, Gene O'Neill, Marilyn Santacroce.
DISTRICT 135
Charlie Stallworth, Warren Blunt, Carmen Hatton, Crag Jones, Waith Mitchell, Mary Lee, Darrett Moss, Steve Nelson, Doris Roman Nelson.
DISTRICT 136
Chris Rosario, Wanda Geter Pataky, Cruz Cotto, Mark Trojanowski, Larry Osborne, Antonio Felipe, Dennis Bradley, Jose Casco, Fabio Mazo.
DISTRICT 137
Lydia Martinez, Maria Rivera, Gil Hernandez, Aidee Nieves, Banjed Labrador, Guillermo Marin, Joel Rosario, Maria Valle, Juan Hernandez.
DISTRICT 138
Scott Hughes, Melanie Jackson, Twana Johnson, Jame Morton, Nadia Pearce, Pearlye Sams-Allen, Martha Santiago, Anthony Paoletto, Michael Marella.
DISTRICT 139
Ralph Ford, Charlie Coviello, Cynthia Maignan, James Holloway, Ernie Newton, Deborah Sims, Willeen Gibson, Keith Williams, Eneida Martinez-Walker.