Facing a sometimes restrained, sometimes frustrated crowd, Mayor Bill Finch addressed a jam-packed audience Wednesday night at the Black Rock Library Branch to explain why he must raise taxes. He established his priority right out of the box: his comments chastising neighborhood residents to stop complaining about high taxes were taken out of context.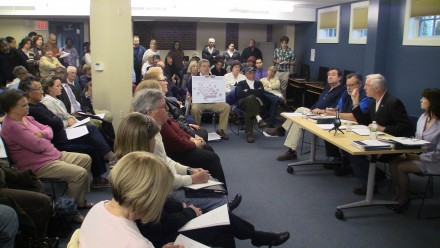 "Those people have got to stop complaining about their taxes" the mayor stated at a recent brown bag lunch with constituents captured by CT Post reporter Tim Loh. The mayor claimed taxes in Bridgeport are a good deal and folks in Black Rock, the city's highest taxed area, should stop whining. Finch has been feeling the heat from Black Rock residents and pols unhappy about his comments. It comes at a time the mayor is asking residents to grant him the power to appoint members of the Board of Education on top of his proposal to hit taxpayers with a hefty tax increase. No easy sell.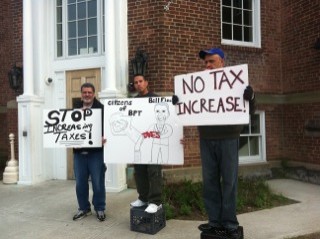 The mayor hosted the second in a series of expected neighborhood meetings to explain his budget that includes a 2.7 mil tax increase to cover $7 million more in school spending and millions more in pension obligations. The mayor's in the first year of a second four-year term. Better to get the pain out of the way as soon as possible. With budget director Tom Sherwood and Superintendent of Schools Paul Vallas at his side, the mayor urged residents to support his plan reasserting he had not raised taxes the prior three years. He has called his proposed $7 million investment in city schools historic.
The meeting was moderated by Black Rock resident Pat Crossin, who had spent 10 years as chair of the City Council's Budget and Appropriations Committee during an era when taxes were actually cut in the city. One by one residents both inside and outside of the neighborhood expressed anguish about the impact of a hefty tax hit and pointed to areas of the budget that should be cut.
Many Black Rock homeowners, with the highest assessments in the city, will pay on average $600 and more under the mayor's budget proposal now in the hands of the City Council.