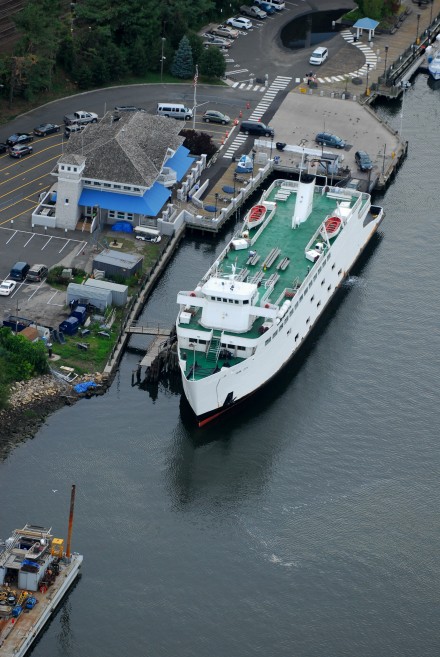 Another legal round for the Bridgeport and Port Jefferson Steamboat Company. U.S. District Court Judge Christopher Droney has awarded the ferry company more than $1 million in legal fees and costs in conjunction with the ferry company's lawsuit that challenged the passenger fees the Bridgeport Port Authority was charging on its ferries between Bridgeport and Port Jefferson, New York.
Judge Droney had awarded the "Ferry Company nominal damages and granted in part its request for injunctive relief." The case was affirmed on appeal. The ferry company had asked for millions in legal fees and costs. The judge ordered payment of what he thought was reasonable. "The Port Authority shall pay the Ferry Company $1,171,524.75 in fees and costs, in accordance with this ruling," the judge issued a few days ago. But how to pay with no money?

Officials for the ferry company and port authority have been fighting for years over fees and location of the ferry terminal downtown. The city doesn't have an active port authority. Chief Administrative Officer Andy Nunn has been serving as acting director since the departure of Joe Riccio in 2009. The port authority itself spent a boatload on legal fees in this case and is generating little in revenue. Judge Droney had ruled in this case any fees collected from the ferry company must benefit ferry passengers.
Roughly one million travelers each year traffic the city's ferry terminal downtown.
Many head over to Port Jefferson from the city and surrounding suburbs, and some come over from the other side of the pond to work and attend events at the arena and ballpark, and environs. Ferry officials want to move the ferry terminal to the other side of the harbor on the East End for a new facility with upgraded services and improved parking while cutting the trip by 10 minutes with immediate access off I-95.
Opponents, including many business leaders and officials with the Bridgeport Port Authority, a quasi-city agency which owns the ferry terminal property along Water Street, say the ferry service is vital to support business and attractions downtown.