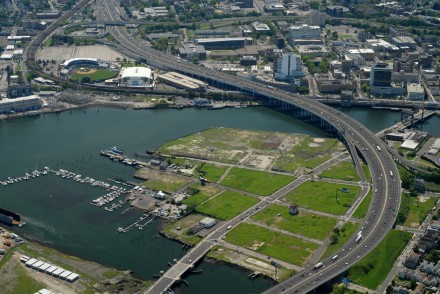 Losing the $11 million federal grant for the Steel Point redevelopment area was like a kick in the crotch to Mayor Bill Finch. Congressman Jim Himes as well. It was Himes who secured the funds last October. On Saturday the GOP-controlled U.S. House said sayonara to the moolah slated for the city. Now what?
Well, if you're Finch you talk to just about anyone willing to listen to you about the lost funds. You conduct a press conference on it. You zoom to Washington to see about rallying support to have the dough reinstated. Good luck.

On a one-day trip Wednesday to participate in a U.S. Conference of Mayors event, Finch was also scheduled to meet with representatives from Senators Dick Blumenthal and Joe Lieberman and Congressman Jim Himes' offices regarding proposed cuts to federal Community Development Block Grant programs, according a mayoral news release.
These are funds that support the city's social network, a great way for a mayor to play Santa Claus, particularly in an election year. Finch doesn't have a high profile development he can call his own, following his election in 2007. Finch supported tax incentives and financing approval for the housing portion of Phil Kuchma's Fairfield Avenue development that has cleaned up a couple of downtown city blocks, a project that started during John Fabrizi's administration. Finch and Economic Development Director Don Eversley can point to a few singles, but nothing remotely close to the project now called Steelpointe Harbor, a redevelopment area that has started, stopped, started, staggered, started, sputtered for nearly 30 years. Robert Christoph, managing partner of Bridgeport Landing, oversees the project. And the loss of the $11 million now places the project back into a swirl when it appeared it could actually move in earnest, or at least move some dirt around in an election year to create the appearance of progress to transform the lower East Side.
They may still move some dirt around, but will it be real? Not apparently without the federal dough.