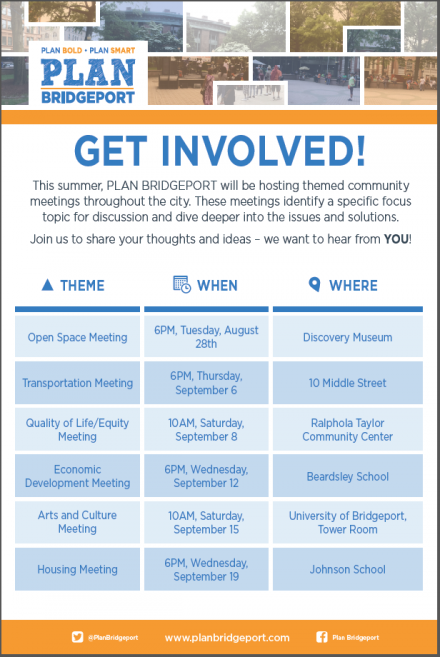 City officials are seeking community input about an updated Master Plan of Conservation and Development including upcoming meetings covering transportation, quality of life, economic development, arts and culture and housing. See schedule above. The city has set up a website, see here, with details about the process that takes place every 10 years to craft a roadmap for the future of the city.

From the website:
The 2018 Master Plan of Conservation and Development will break from previous Plans by engaging a wider cross section of Bridgeport residents and constituents, incorporating the use of technology in plan development and distribution, and re-imagining the way in which members of the public and prospective investors engage with the Plan.

The decisions and policies derived from the Master Plan of Conservation and Development are directly dependent on input heard throughout the engagement process. Pop-up events, community meetings, youth events, thematic meetings, interviews, virtual public meetings, and social media will be utilized as venues for fostering impactful dialogue surrounding the Plan.