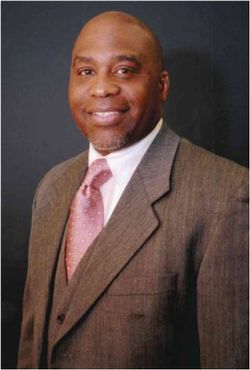 Update: Baker decides against run. Board of Education member Andre Baker is considering a challenge of Ernie Newton for the Democratic nomination for Connecticut's 124th State House seat that Newton once occupied. Newton is expected to receive the party endorsement tonight at Testo's Restaurant. If Baker runs, it adds a pearly twist to city politics featuring two pols with East End political bases. While Newton and Baker aren't best of buds, they've gotten along for the most part throughout the years. A few weeks ago Baker told OIB he'll not be a candidate against Newton saying he's enjoying his time on the school board. So what gives?

"The people want me to run," says Baker.
"We'll let the people decide," says Newton.
City fire commission William Marshall was rumored to be a candidate against Newton. Baker says if Marshall does not run, he will run against Newton. Baker says the district needs new blood. Don Clemons who replaced Newton in the State House seat when Newton was elected to the State Senate 10 years ago, is retiring.
Political factions opposed to Newton returning to the state legislature have been leaning on Baker to run. If he gets in, Baker will try to qualify for a public grant under the state's Citizens Election Program of publicly funded races. Newton is barred from the voluntary program after the legislature passed a state law last year prohibiting Newton's participation following his arrest on state charges accusing him of falsifying $500 in campaign contributions to trigger a public grant for his State Senate run two years ago. Newton denies the charges and is awaiting a court date.
While Newton is barred from public financing, he can raise funds outside of the program.
One last political convention will take place tonight at Testo's Restaurant when candidates for State House, judge of probate and registrar will be endorsed. The top billing for State House, in addition to the Newton race, is the expected endorsement of the city's anti-blight czar Chris Rosario for the seat occupied by Christina Ayala. Will she primary? Will Dennis Bradley, who's also in the race?
Judge of Probate Paul Ganim and Democratic Registrar Sandi Ayala, occupants of citywide positions, are expected to be endorsed without primary opposition.
Other State House members Auden Grogins, Jack Hennessy, Ezequiel Santiago and Charlie Stallworth are also expected to receive endorsements without primary opposition.