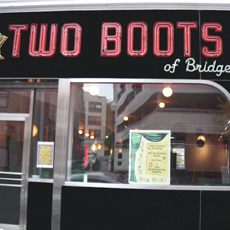 UPDATE: The owners of Two Boots Downtown, one of the original tenants in Phil Kuchma's Bijou Square redevelopment that cleaned up a couple of city blocks on Fairfield Avenue, have announced the business has closed after eight years, according to the pizza specialty website. According to city tax records Two Boots has shut its doors owing the city tens of thousands of dollars in personal property taxes. See here.

From Two Boots website:
Now, after 8+ years, our lease is coming to an end, and we've decided we must close down–more suddenly than we would have liked, with our hands full with new store construction projects around the country.

We're enormously grateful to all those who supported us over the years–our devoted customers, our loyal staff, and all the talented performers who've graced our stage!

In retrospect, we might've aimed too high, and harbor the hope that one day we can return to the community with a scaled-down, pizzeria version of Two Boots. But either way, we'll be rooting for the revival of downtown to continue, and hoping for all the dreams to come true for Bridgeport.
BILL #
NAME/ADDRESS
PROPERTY/VEHICLE
PAID
OUTSTANDING
OPTIONS
PAY
2009-02-0044915
P–2116965
W
(PERSONALPROPERTY )
TWO BOOTS OF BRIDGEPORT

277 FAIRFIELD AVE
UNCLE LEO LLC
$15,018.23
2010-02-0044915
P–2116965
W
(PERSONALPROPERTY )
TWO BOOTS OF BRIDGEPORT

277 FAIRFIELD AVE
UNCLE LEO LLC
$12,142.68
2011-02-0044489
P–2116965
W
(PERSONALPROPERTY )
TWO BOOTS OF BRIDGEPORT

277 FAIRFIELD AVE
UNCLE LEO LLC
$9,931.29
2012-02-0003503
P–2116965
W
(PERSONALPROPERTY )
TWO BOOTS OF BRIDGEPORT

277 FAIRFIELD AVE
UNCLE LEO LLC
$7,700.91
2013-02-0003503
P–2116965
W
(PERSONALPROPERTY )
TWO BOOTS OF BRIDGEPORT

277 FAIRFIELD AVE
UNCLE LEO LLC
$5,693.41
2014-02-0002879
P–2116965
W
(PERSONALPROPERTY )
TWO BOOTS OF BRIDGEPORT

277 FAIRFIELD AVE
UNCLE LEO LLC
$3,921.58