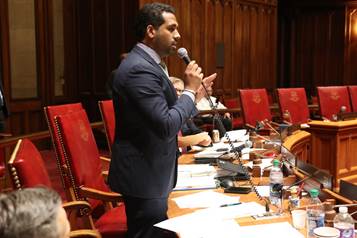 When Dennis Bradley was a candidate for State Senate and came up short against incumbent Ed Gomes it was yeah, baby, fire up that absentee ballot machine. When Dennis Bradley was elected to the State Senate in 2018 it was yeah, baby, fire up that absentee ballot machine.
Now, in an amazing religious transformation about absentee ballots, while battling both state and federal campaign finance probes, the attention-junkie Democrat says damn those absentee ballots, even in the face of a public health pandemic. On Tuesday he was the only state senator–yup 35-1–to vote against allowing no-excuse absentee ballot voting as a public health precaution in November.
City Clerk Lydia Martinez, the political queen of absentee ballots, broke her you-know-what in the cause of advancing his election. Talk about throwing someone under the bus.
Former Bridgeport official and state political operative Christine Bartlett-Josie framed it this way on Facebook
Christine Bartlett-Josie it was fine when the AB machine worked for him. Since he has falling out of favor with the AB Queen. He is a fucking ass.
Bradley's feeling the heat of these state and federal investigations so he's trying to frame himself as some twisted reformer going against the grain for attention while positioning for a mayoral run in 2023.
This, at least in the short term, has been a serendipitous year for the newly married Bradley given he has no primary opponent when it was expected he'd have one pre-Covid. But in this surreal Covid world when he had an opportunity to back the public health measure, he chose an unorthodox platform to make a misplaced statement he felt would score political points. Even every Republican in the State Senate voted for it.
Flip flop, flip flop. Look for Bradley to flip back someday.
Here's Bradley's statement. Strap in.
The party elite and surrounding communities point their finger at Bridgeport and call us corrupt. By doing so we are often last on an urban agenda, whenever there is one. Now these same people who deny us funding call us corrupt who point at things like the recent election of Ganim and Moore as recent examples of corruption. Now these same folks wanted to proliferate ABs under the false claim of COVID. So we can shop at malls, we can gather at restaurants, we can have all types of encounters but the only way people can vote during these trying times is by proliferating ABs.
Bradley obviously did not read the bill, or just ignored it out of expediency spin. You can still go to the polls to vote, but if you fear a public health concern you may vote by absentee ballot.